Signature Market
Mala Salted Egg Yam Stick (Expiry On: 18 May 2020)
(80g)
Selling : RM 24 (Save 31%)
(
log in
for member pricing )
Spicy
About This Product
Every day is Fry-day with our Mala Salted Yam Stick. Cut thick like fries for a better mouthfeel, these spicy, crispy morsels are the perfect snack for when you're craving something salty, spicy and crunchy all in one. Sichuan cuisine is known for their bold flavours and fiery levels of spiciness making this a snack that is not for the faint-hearted. Famed for its intense fragrance, citrusy flavour and the tingling-numbing sensation it imparts, the Sichuan peppercorn otherwise known as flower pepper, is a spicy lover's dream. What's better than finding a snack that tastes amazing? Finding out they're healthier for you than commercially available snacks too! Our Mala Salted Yam Stick snack is made with nutrient-rich yams that provide you with an extra source of fibre, potassium, manganese, copper and antioxidants. Additionally, not only does Sichuan peppercorns give foods a spiciness unlike common peppers or chillies, it's also a powerhouse of potassium, vitamin A, iron, manganese, zinc, copper and phosphorous. Eat them on their own, top your boring salad with a handful for some texture or dip them into your steamboat for a yam-my experience!
Country of Origin: Malaysia
What Does This Taste Like?
Crispy and savoury with a distinctively fiery bite and deliciously coated in rich salted egg powder for finger licking goodness.
Health Benefits
1. Yams are an excellent source of fibre and also high in potassium and manganese, which are important for supporting bone health, growth, metabolism, and heart function.
2. Yams contain a unique compound called diosgenin, which may enhance memory and brain function.
3. Stimulates circulation due to the high iron content in Sichuan peppers.
4. The analgesic properties of peppers also help to lower pain thresholds, preventing the nervous system's ability to produce more pain.
5. Sichuan peppers contain significant amounts of phosphorous, manganese, copper and iron which all contribute to bone health.
6. Beta-carotene rich and antioxidant-rich, Sichuan peppers can also improve eye health, lowering risks of muscular degradation.
Usage Directions
Open packet and consume.
How To Consume
Open packet and consume directly.
Ingredients
Yam, Salted Egg Yolk, Sichuan Peppercorn, Chili Pepper, Dried Chilli, Olive Oil, Sugar, Red Paprika Flake, Curry Leaf, Salt.
Allergy Information
-None-
Storage Instructions
Store in an airtight container or in its original resealable bag to maintain freshness. Keep in a cool, dry place. Avoid exposure to sunlight or excessive heat.
Related Products
Related Blogs
Ratings & Reviews
Share your feedback by reviewing this product. Help other shopper decide whether it's right for them.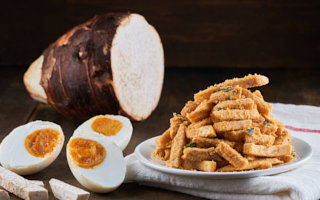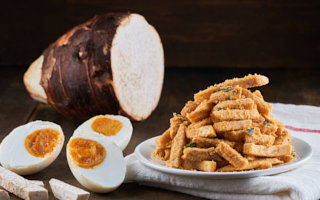 Mala Salted Egg Yam Stick (Expiry On: 18 May 2020)
(80g)