Signature Market
Tropical Fruit Muesli
(350g)
Selling : RM 18 (Save 30%)
(
log in
for member pricing )
Natural
About This Product
No time for a tropical holiday? Dive into a bowl of our Tropical Fruit Muesli and let your taste buds be taken away on a sunshiny tropical journey! This oat, nut, seed and dried fruit blend contains a chewy combo of dried Thai mango and orange peel bits for a gourmet muesli experience. This muesli also includes a healthy helping of chia seeds, a superfood known for its antioxidant properties and omega-3 fatty acids, fibre and protein content. Easy to prepare and a powerhouse of healthy carbs, fibre and good fats, this cholesterol-free and trans-fat free muesli is a great go-to breakfast for a bright and fun way to kickstart your day.
Muesli is often likened to granola, but there's actually a minor difference between the two as muesli is typically the more natural and healthier option with less sugar content and a shorter baking process to retain more nutrients. By choosing muesli as your go-to breakfast, you're choosing to avoid eating a more fattening or sugary option and thus saving your waistline. Muesli is also easy to prepare and versatile enough to be served hot or cold. Just incorporate it into your meal as an overnight oat base that can be eaten cold or warm.
Country of Origin: Malaysia
How To Consume
Cold
Soak in plant-based milk or water for about 10 minutes. For softer cereal, soak overnight.
Hot
No cooking required, just add hot water or desired hot beverage to your muesli. Soak for 5 minutes and serve.
Ingredients
Organic Regular Oat, Organic Quick Rolled Oat, Almond, Thai Dried Mango, Orange Peel, Pumpkin Seed, Chia Seed, Cashew Nut.
Allergy Information
Contains nut products.
Storage Instructions
Store in an airtight container or in its original resealable bag to maintain freshness. Keep in a cool, dry place. Avoid exposure to sunlight or excessive heat.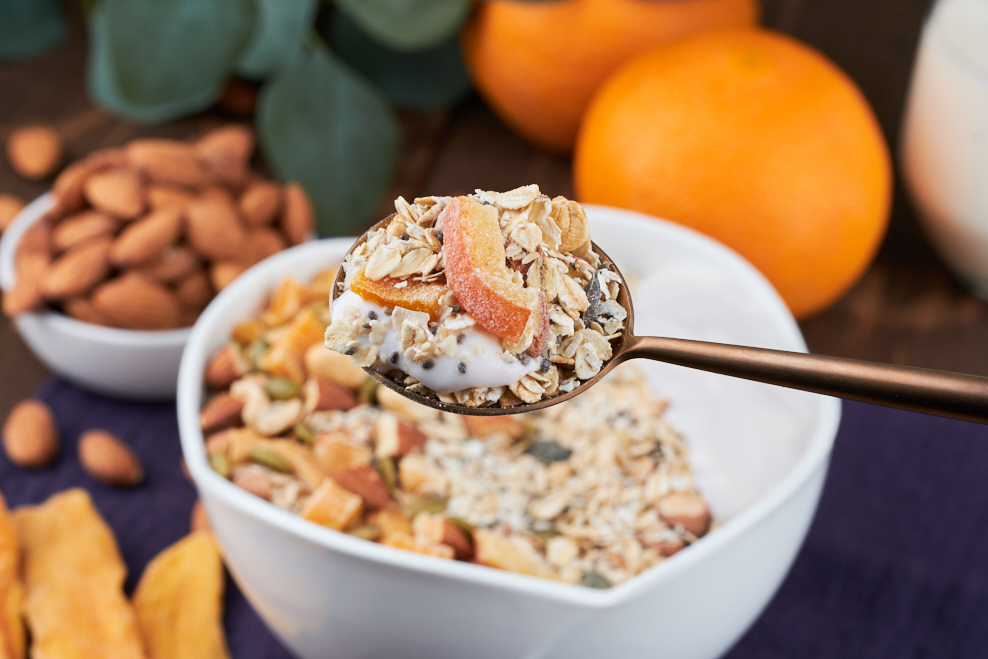 Related Products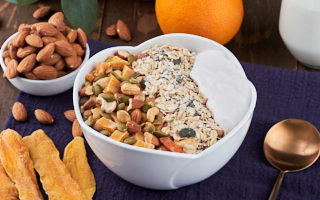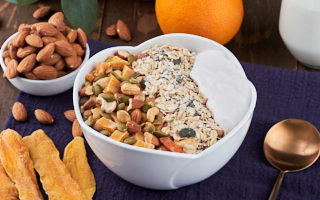 Tropical Fruit Muesli
(350g)