Free Chunky Peanut Butter *

About This Product

Do you roll your eyes every time someone tells you that it's time to switch to more 'adult' options like muesli instead of 'kiddie' cereals? What if we told you that you don't need to choose between the two? Introducing our Dark Chocopillow Multigrain Muesli, a sinfully decadent-tasting yet still insanely healthy muesli reminiscent of our childhood breakfast cereals. Toasted oats, generous helpings of cashews, almonds and dried fruit complemented by puffy chocolate multigrain pillows bursting with a luxurious dark chocolate sauce - it just doesn't get any better than this. Each puffy pillow is made from 21 wholesome multigrains and filled with real dark chocolate - no artificial flavours and no preservatives, just pure deliciousness. Get your childhood cravings fixed the guilt-free way with our Dark Chocopillow Multigrain Muesli, your only regret will be not buying more of it.

Country of Origin: Malaysia

Ingredients
Multigrain Cereal (Cocoa, Organic Brown Rice, Organic Black Rice, Organic Millet, Organic Black Millet, Organic Green Millet, Organic Oat, Organic Millet Germ, Organic Buckwheat, Organic Black Buckwheat, Barley, Calrose Rice, Organic Wheat Grain, Corn Grain, Organic Red Rice, Japanese Pearl Brown Rice, Oat Germ, Sorghum, Organic Calcium Rice, Glutinous Rice, Black Glutinous Rice, Wild Purple Rice, Milk Powder, Soy Lecithin, Sugar, Vegetable Oil, Salt), Organic Regular Oat, Organic Quick Rolled Oat, Cranberry, Almond, Golden Sultana Raisin, Cashew, Sunflower Seed.

Allergy Information
Contains nut and dairy products.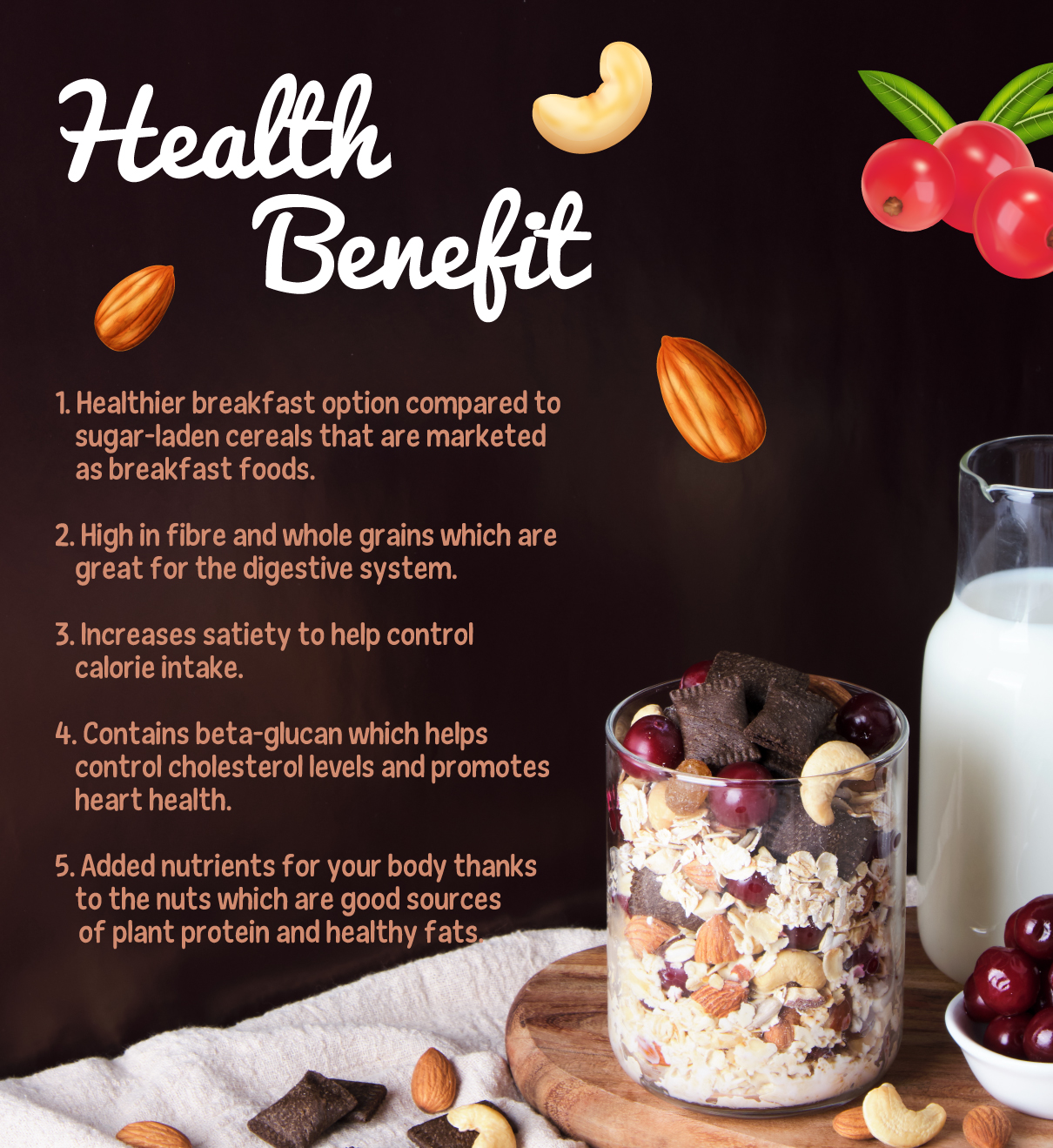 Buy 4 Get Free Gift
Related Products
Ratings & Reviews
Share your feedback by reviewing this product. Help other shopper decide whether it's right for them.
NUR S S from BAYAN LEPAS, Penang | Posted 3 weeks ago
Pleasure in healthy way
Who says you can't have delicious healthy food? Try this and you will know what I mean 😉
Mar* T L from Subang Jaya, Selangor | Posted 3 weeks ago
Yummy!
The mixture of nuts & chocopillow really hits another level. Highly recommended :)
Sha***** K from Kuching , Sarawak | Posted 2 months ago
Dark Chocopillow Multigrain Muesli
I'm love it. This is my second purchase. Its really tasty and yummy when eat with milk. Definitely will recommend this to others.
Nur** f b n from Ajil, Terengganu | Posted 3 months ago
Sedap
1st try muesli.. this one sgt sedap..must try!!
ER J L from WPKL, Kuala Lumpur | Posted 3 months ago
Won* Y W from Kuala Lumpur , Kuala Lumpur | Posted 5 months ago
Chocopillow
The chocopillows are crunchy and tasty
Dark Chocopillow Multigrain Muesli
(380g)