Signature Market
Omega-3 Supreme Muesli
(350g)
Selling : RM 18 (Save 30%)
(
log in
for member pricing )
Natural
About This Product
Not all fatty acids are created equal and the fact is even more evident when it comes to omega-3. From helping to fight depression to improving eye, heart and metabolic health with its anti-inflammatory properties, omega-3 is an essential part of a healthy diet which is why we've created a muesli mix specifically targeted to give you a loaded helping of it with every bite. While commercial cereals, granolas and mueslis are often loaded with unnecessary sugars and preservatives, we can assure you that our Omega-3 Supreme Muesli contains only the pure natural goodness of toasted oats, nuts and dried fruit for a brain-boosting start to your day. Cholesterol-free, trans-fat free and high in dietary fibre, our Omega-3 Supreme Muesli is loaded with flaxseeds and chia seeds, dried guava and dried blueberry with a host of heart-healthy fats from the finest grains and nuts.
Muesli is often likened to granola, but there's actually a minor difference between the two as muesli is typically the more natural and healthier option with less sugar content and a shorter baking process to retain more nutrients. By choosing muesli as your go-to breakfast, you're choosing to avoid eating a more fattening or sugary option and thus saving your waistline. Muesli is also easy to prepare and versatile enough to be served hot or cold. Just incorporate it into your meal as an overnight oat base that can be eaten cold or warm.
Country of Origin: Malaysia
What Does This Taste Like?
Nutty with a sweet juicy flavour and crunch from the dried fruit.
Health Benefits
1. Rich in omega-3 fatty acids which have anti-inflammatory properties due to alpha linolenic acid content (ALA) which may help protect the body from cardiovascular diseases. Omega-3 helps to fight depression and anxiety, improve eye, brain, liver and heart health, fight inflammation and age-related mental decline.
2. Both chia and flax seeds contain good amounts of alpha-linolenic acid (ALA), a type of plant-based omega-3 fat. ALA is considered essential because it's a type of fat that the body cannot produce, it's exclusively available through a diet rich in omega-3.
3. Contains a significant amount of fibre, which has been linked to a lower risk of developing type 2 diabetes. Fibre helps guard against type 2 diabetes by slowing down the digestion rate of carbs and absorption of sugar into the bloodstream. This leads to a more gradual rise in blood sugar levels after a meal.
4. Guavas contain higher levels of potassium and soluble fibre which may help contribute to improve heart health.
5. Blueberries are rich in anthocyanins and its antioxidant properties can help reduce the risk of heart attacks and diabetes.
6. Oats are good sources of good carbs and fibre. Contains a soluble fibre called Beta-Glucan that helps control cholesterol levels and lowers risk of cardiovascular disease. It also promotes the growth of good bacteria in the gut and may help relieve constipation.
7. Very filling and promotes satiety to help you lose weight. Oats contain resistant starch, making muesli an extremely filling breakfast that takes a long time to digest. As the resistant starch is broken down in your stomach, digestive acids that suppress your appetite are released and your metabolism speeds up, so you'll burn more calories in less time.
Usage Directions
Open packet and consume.
How To Consume
1. Add to a bowl of milk/yoghurt and fresh fruit for a healthy snack.
2. For a softer and more oatmeal-like muesli, add hot water/desired hot beverage to muesli and allow it to soak for 5 minutes before serving.
3. Suitable for use in overnight oats. Simply replace oats with muesli and allow to soak overnight before serving for a richer flavour.
Ingredients
Organic Regular Oat, Organic Quick Rolled Oat, Walnut, Organic Brown Flaxseed, Organic Chia Seed, Dried Blueberry, Dried Guava, Pumpkin Seed.
Allergy Information
Contains nut products.
Storage Instructions
Store in an airtight container or in its original resealable bag to maintain freshness. Keep in a cool, dry place. Avoid exposure to sunlight or excessive heat.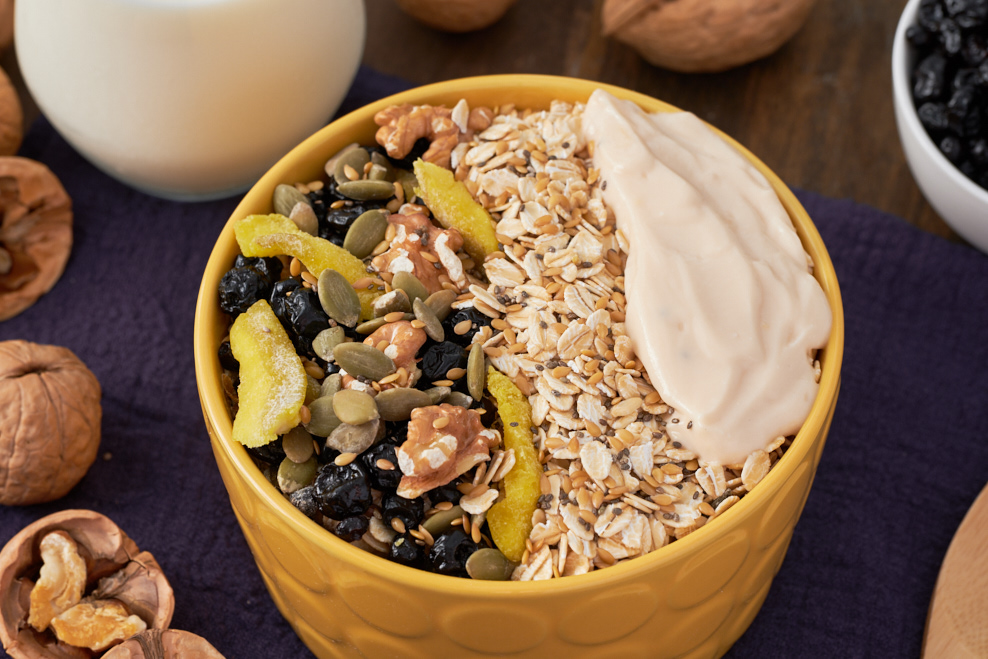 Related Products
Special
Signature Market
Food
Babies & Kids
Health & Beauty
Home