Free 3x Women Power Notebook*

About This Product

A tropical getaway in a bowl? Sign us up! Bursting with the sweet, creamy and tangy flavours of a slow-baked coconut chips, dehydrated pineapple, almond, pumpkin seeds and chia seeds, our Chia Pineapple Muesli's bright flavours are inspired by the classic tropical cocktail from which it got its name.
Instead of sugary breakfast cereals, opt for a fun fruity muesli made from nutritious, all-natural ingredients! Mueslis are considered the healthier alternative due to the fact that they contain no added sugars and contain plenty of fibre in the form of whole grains and nuts for better digestion. Our Chia Pineapple Muesli contains two varieties of oats which makes it rich in beta-glucan, an essential component to maintain healthy cholesterol levels and promotes heart health. Nuts and chia seeds contribute to your protein intake and also deliver a helping of healthy fats. The balanced combination of protein, fibre and carbohydrates gives you an energy boost and simultaneously helps increase satiety to keep you energised and full throughout your day.


Country of Origin: Malaysia

Ingredients
Quick Rolled Oats, Regular Oats, Dried Pineapple, Dried Mango, Coconut Chip, Almond, Chia Seed, Pumpkin Seed.

Allergy Information
Contains nut products.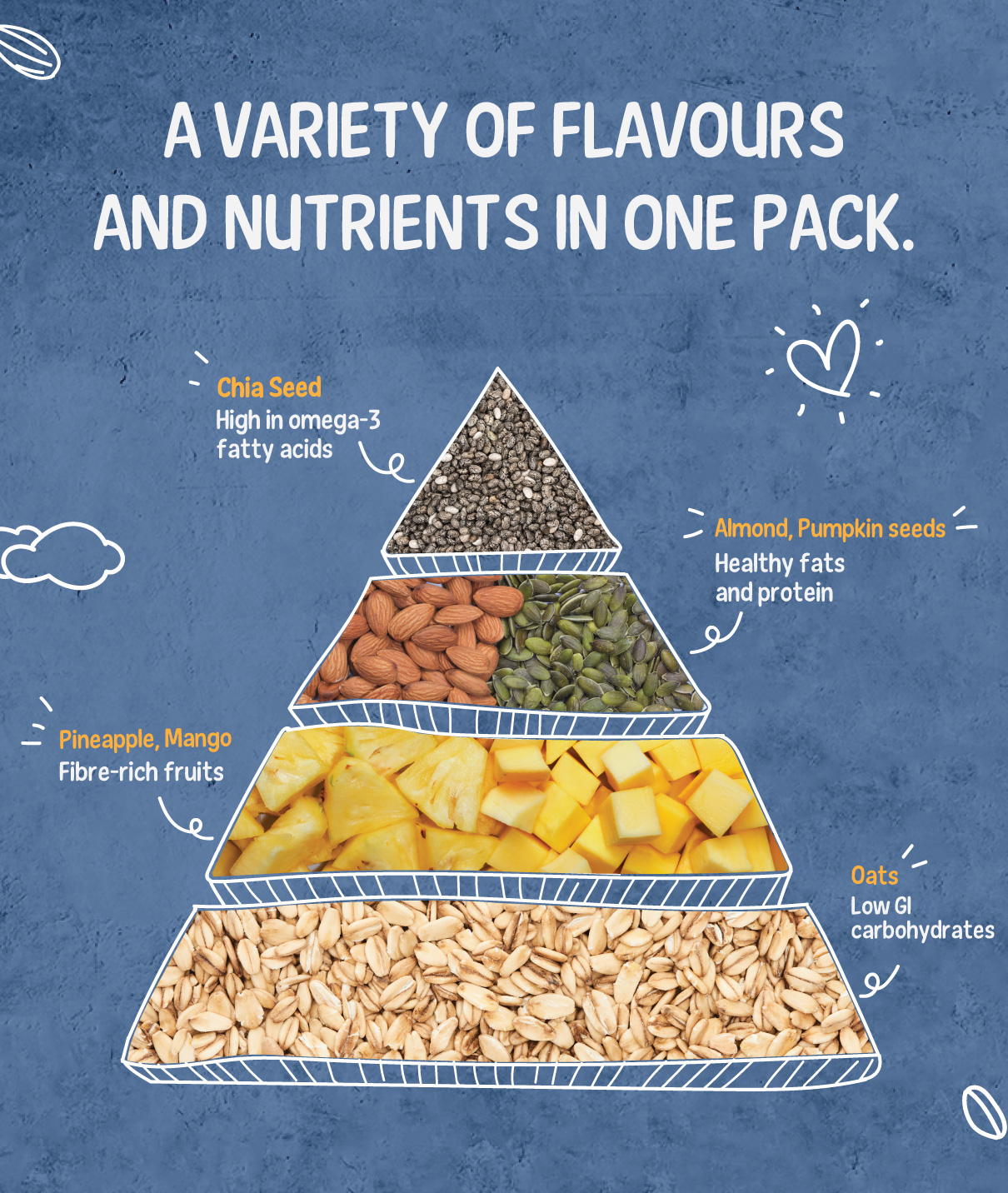 Buy 5 Get Free Gift
Related Products
Ratings & Reviews
Share your feedback by reviewing this product. Help other shopper decide whether it's right for them.
ZAT** A S from SHAH ALAM, Selangor | Posted 2 months ago
Pina Colada Muesli
Love it so much
lio** m f from kuala lumpur, Kuala Lumpur | Posted 3 months ago
muesli
second time purchase,good as usual
SHI**** F from IPOH, Perak | Posted 3 months ago
Healthy breakfast
Yummy and healthy
Ng M W from Petaling Jaya , Selangor | Posted 4 months ago
Win*** O X Y from Gelugor, Penang | Posted 4 months ago
Best buy
Bought it during promotion, worth the money
Lim M C from Petaling Jaya, Selangor | Posted 5 months ago
Have a filling stomach to start the great day!
Well mixed of fruit and oat enable me to start my day...
Far** N E from KUALA LUMPUR , Kuala Lumpur | Posted 5 months ago
The best tasting muesli ever!
😋
Chia Pineapple Muesli (Previous Name: Pina Colada Muesli)
(350g)