Free Chunky Peanut Butter *

About This Product

Although waking up feeling fully rested and with enough time to make a nutritious breakfast is something most of us have probably dreamt of at some point, most of us are guilty of prioritising sleep over a hearty breakfast. Introducing our Soy Taro Oat-Ready Bowl, the answer to hurried mornings and eliminator of fast food meals. Made with wholesome ingredients such as oat flakes, organic soy powder, taro and yam, each serving is only 150kcal, gorgeously coloured with all-natural colouring derived from beetroot and butterfly pea flowers and comes pre-packed in individual sachets for your convenience! Fibre-rich, flavoured with all-natural ingredients and chock full of protein, complex carbs and nutrients, it'll keep your tummy happy and provide you with sustained energy levels until it's time for your next meal. Psst..it's great for individuals who are vegan or lactose intolerant too!

Country of Origin: Malaysia

Ingredients
Instant Oat Flake, Organic Soy Powder, Caster Sugar, Dehydrated Taro Powder, Natural Yam Extract, Natural Colouring (Beetroot and Butterfly Pea Flower), Vanilla Powder, Salt.

Allergy Information
Contains soy products.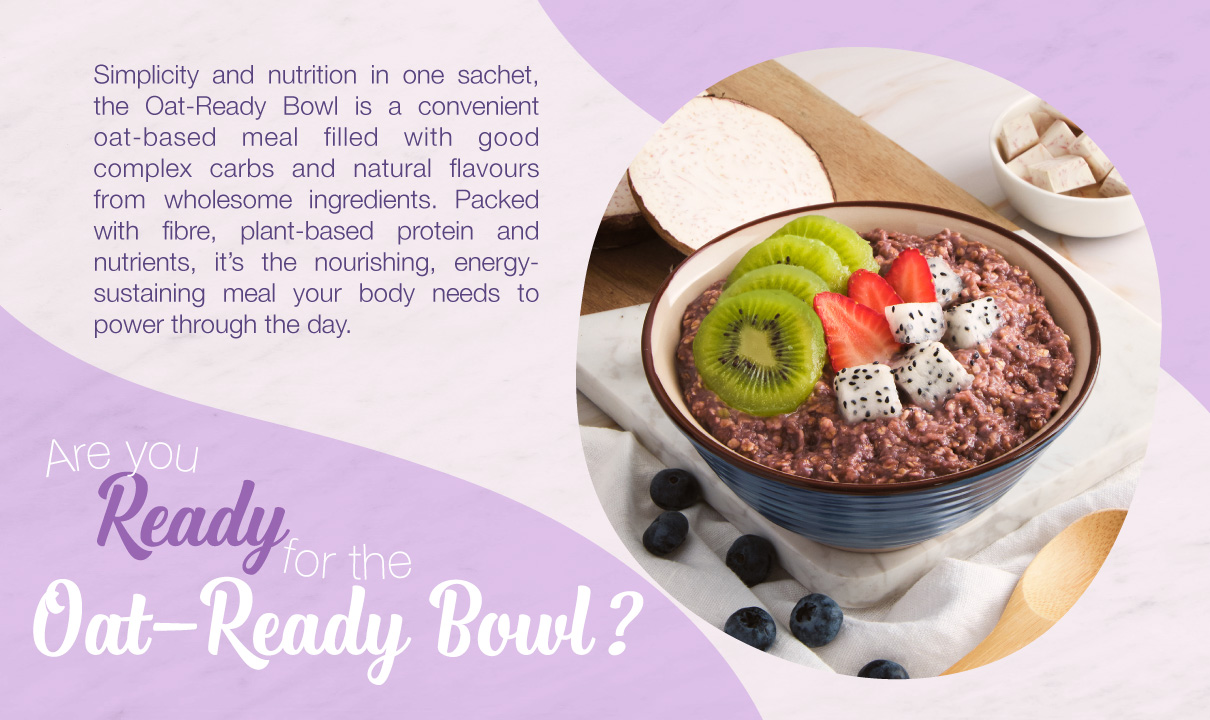 Buy 4 Get Free Gift
Related Products
Ratings & Reviews
Share your feedback by reviewing this product. Help other shopper decide whether it's right for them.
LUK* G from BALING, Kedah | Posted 2 weeks ago
On The Go Meal
just a pack a day to start my busy day...
Eve C from Kuala Lumpur, Kuala Lumpur | Posted 5 months ago
Great
Looking good. Can't wait to try
Pav********* R from Nilai, Negeri Sembilan | Posted 5 months ago
meal in a bowl
perfect as a meal replacement
Soy Taro Oat-Ready Bowl
(40g x 6 sachet)