Signature Market
Taiwan Dried Pineapple
(80g)
Selling : RM 12 (Save 45%)
(
log in
for member pricing )
Natural
about this product
Origin of Country: Taiwan
Signature Snack Taiwan Dried Pineapple is truly selected from fresh pineapple. Absolutely do not contain any artificial coloring, flavoring, sweetener, or chemical preservatives. It is not only contains natural vitamins, crude dietary fiber and minerals, but also keeps rich and juicy taste texture. It is fresh smelling, fresh chewy, amazing delicious dried fruit.
Each recipe, flavor, quality, packaging and marketing of our products is taken as an integrated structural consideration.
Processing without any artificial pigments and chemical preservatives, it is indeed a quality leisure snack.
Dried pineapple is chock-full of a protective enzyme called bromelain. This enzyme fights inflammation that affects the tissues and organs of the body. Some research suggests that bromelain may be as effective in reducing swelling as anti-inflammatory medications. Bromelain can aid recovery from sports injuries and after surgery. Enzyme-rich dried pineapple slices are also used as a remedy for indigestion. They relieve stomach aches and support digestive health by breaking down proteins.
If that isn't reason enough to love dried pineapple, it's also a good source of vitamin c and antioxidants. It helps combat the formation of free radicals. Vitamin C also plays a vital role in the formation of collagen, the support system of the skin.
Healthy ways to eat dried pineapple.
1. Fruit Salad.
Add on and all of your favorite fruits together for a simple treat anytime of the day.
2. Pop a few.
Dried pineapple are delicious as it is! Pack a few for an energizing mid-morning or pre-workout snack!
3. Salad Topper.
To add more potassium and vitamin A to your day, toss dried pineapple on your favorite low fat chicken, seafood or pasta salad.
4. Add on to your cereal or oatmeal.
For breakfast, you can add a variety of different dried fruits into your daily cereal or oatmeal. When you get bored with raisins or dried cranberries, switch it up with some dates or dried pineapple.
Whether you are looking to add in extra flavor or vitamins, you can't go wrong with dried fruits. You can even use them as a sugar replacement in some of your recipes. Eating healthy is easy, all you have to do is think a little bit differently.
Ingredients:
Pineapple, Sugar, Salt.
Storage Direction
Keep in a cool, dry place. Avoid from exposure to the sunlight or excessive heat. To ensure freshness after opening, keep box closed firmly.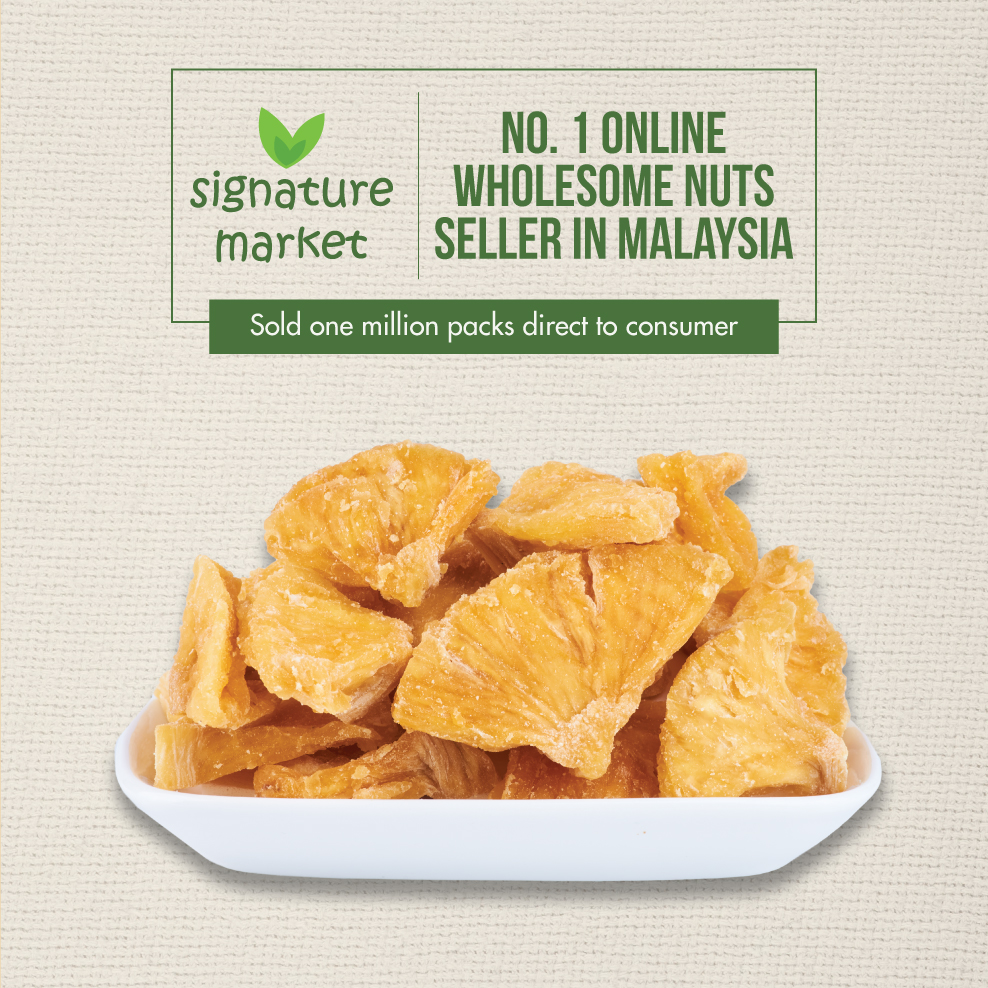 Related Products
Ratings & Reviews
Share your feedback by reviewing this product. Help other shopper decide whether it's right for them.
Taiwan Dried Pineapple
(80g)