Signature Market
Thick Almond Cinnamon Italian Biscotti
(150g)
Selling : RM 16 (Save 44%)
(
log in
for member pricing )
Natural
About This Product
A butterless and oil-free biscotti?! Yes, you read that right. Enjoy the tempting crunch of this twice-baked treat done the Italian way. Extra thick for that decadent bite with crunchy almonds and the warm scent of cinnamon, this is a treat that'll have you wanting more. Painstakingly made by hand, these thick treats give you a solid crunch upon the first bite which will melt in your mouth to deliver that tantalizing taste that only superior baking techniques can achieve.
Country of Origin: Malaysia
What Does This Taste Like?
Deliciously crunchy until it melts in your mouth. Infused with the tantalizing aroma of cinnamon and enriched with almond slices.
Health Benefits
1. A powerful antioxidant spice, cinnamon is capable of fighting off the oxidative damage caused by free radicals. This soothing spice can also lower the risk of cardiovascular diseases, fight infections, repair tissue damage, improve cholesterol, blood pressure and blood sugar levels as well as increase the body's sensitivity to the hormone insulin. Its powerful anti-diabetic effect makes it a good spice to ingest for those with pre-diabetic symptoms to prevent onset as well as those already suffering from diabetes to help control their blood sugar levels. In fact, cinnamon's compounds can even mimic the effect of insulin on cells despite being slightly slower than insulin.
2. Almonds are rich in vitamin E which promotes healthy hair, skin and nails. It also has anti-aging benefits, may lower the rate of cancer, cardiovascular diseases and Alzheimer's. Not only is it high in monounsaturated fats, fibre and protein which helps with effective weight control, it also contains high amounts of manganese, magnesium, calcium, iron and zinc. Almonds are also antioxidant rich and may help control blood sugar and blood pressure levels.
Usage Directions
Open packet and consume directly.
How To Consume
Eat it directly from the packet as it is or dipped into a cup of your favourite beverage. We recommend a hot cup of coffee, chocolate or milky tea.
Ingredients
Wheat flour, Brown sugar, Almond, Egg, Baking powder, Cinnamon, Salt
Allergy Information
Contains wheat, egg and nut products (almonds).
Storage Instructions
Store in an airtight container or in its original resealable bag to maintain freshness. Keep in a cool, dry place. Avoid exposure to sunlight or excessive heat.
Related Products
Ratings & Reviews
Share your feedback by reviewing this product. Help other shopper decide whether it's right for them.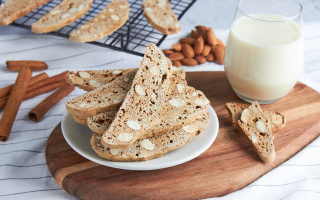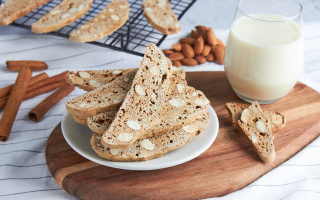 Thick Almond Cinnamon Italian Biscotti
(150g)