Signature Market
Dark Chocolate Chip Butter Cookies (Gluten Free)
(180g)
Selling : RM 14 (Save 30%)
(
log in
for member pricing )


About This Product

Gluten allergies got you feeling down? Don't worry, have a cookie! Yes, you read that right, Signature Market has developed a range of healthy, gluten-free cookies so everyone can enjoy their favourite baked treat without fear of allergies. Our Dark Chocolate Chip Butter Cookies pair the buttery gluten-free cookie base with bittersweet dark chocolate chips for the perfect balance that's neither too rich nor too sweet. Our gluten-free cookies contain no artificial colouring, flavouring, yeast, trans-fat or soy products and are made from healthier alternatives such as brown sugar instead of refined white sugar and aluminium-free, natural baking powder, you can chow down on these guilt-free cookies anytime, anywhere. Add them to your cart today and satisfy your cookie cravings the healthy way!

Country of Origin: Malaysia

Ingredients
Rice Flour, Maize Flour, Dark Chocolate Chip, Brown Sugar, Sea Salt, Natural Baking Powder (Aluminium Free), Butter.

Allergy Information
Contains dairy.

Storage Instructions
Store in an airtight container or in its original resealable bag to maintain freshness. Keep in a cool, dry place. Avoid exposure to sunlight or excessive heat.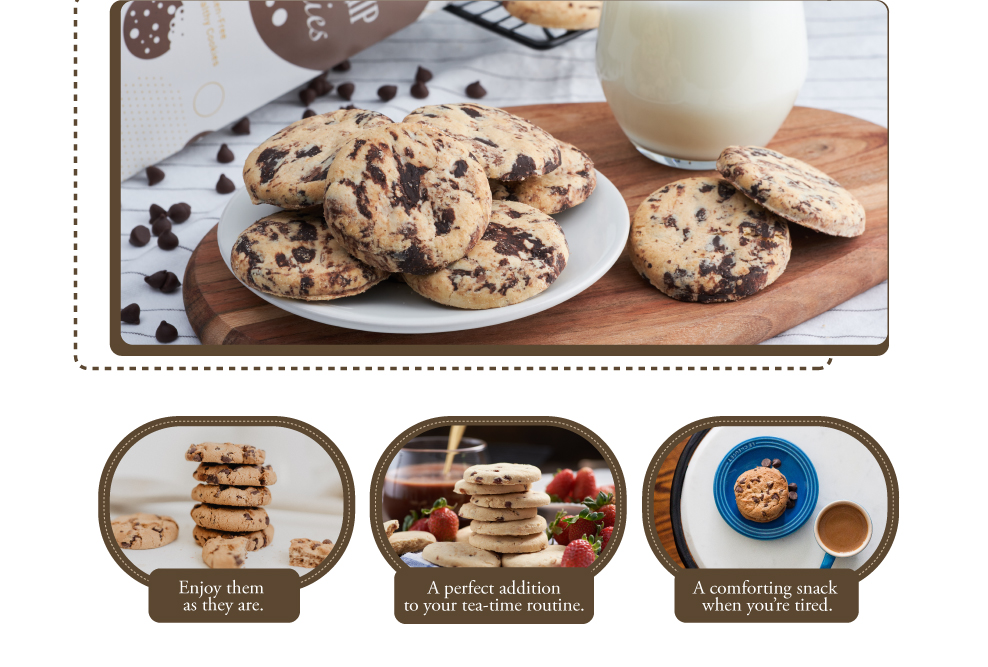 Buy 1 Rebate RM0.20
Related Products
Ratings & Reviews
Share your feedback by reviewing this product. Help other shopper decide whether it's right for them.
Wan S H O from Kuala Lumpur, Kuala Lumpur | Posted 23 hours ago
Qur********* K from Ipoh, Perak | Posted 2 days ago
SIT* Q Z from DESA PANDAN, Kuala Lumpur | Posted 1 week ago
The best gluten free cookie ever!
I honestly love this, it's absolutely delicious! You won't even remember that it's gluten free 😉
NUR A A from Ipoh, Perak | Posted 3 weeks ago
Love
I like the cookies feel like milk and chocolate . not too sweet and the size is big in packet . the small packet in the package also help . loveee
Sit* n a from Wangsa maju, Kuala Lumpur | Posted 3 weeks ago
Very delicious
Soooo goooooooddd...😋😋😋😋
Kir***** G from Puchong , Selangor | Posted 3 weeks ago
Best cookie ever!
Probably the most delicious cookie that i have ever eaten. Worth every penny. I'm buying it every month without fail.
Tan S K from Durian Tunggal, Melaka | Posted 3 weeks ago
Noo* m M m from Kangar, Perlis | Posted 4 weeks ago
NOR******* M S from CHERAS, Kuala Lumpur | Posted 4 weeks ago
Love it!
This is 3rd time i repeat order..
Winston Tan from Kuala Lumpur, Kuala Lumpur | Posted 1 month ago
Crunch Cookies!
Another that I usual buy repeatedly. Just a tad sweeter than I like.
Dark Chocolate Chip Butter Cookies (Gluten Free)
(180g)