Signature Market
Dehydrated Apple Slices
(120g)
Selling : RM 18 (Save 10%)
(
log in
for member pricing )
Natural
About This Product
What do Pikachu and Snow White have in common? Their love for a shiny red apple, that's what! Represented in myths, religions, legends and even cartoons, the apple is famed not only for its appearance, but also for its numerous health benefits. But eating a fresh apple daily may not be feasible for everyone, thus we at Signature Market have packaged them in a way that is not only easy to eat while on the go, but also easy to store due to its longer shelf life. Due to the softened texture, it's suitable even for young children who are teething and need something to chew on.
We use only the best available fruits in season for our dehydrated fruit snacks and they all consist of 100% pure fruit – no artificial colourings, preservatives or flavourings. Picked at the peak of its ripeness, the fruits undergo a low temperature dehydration process in which the nutrients are preserved so you can enjoy the full benefits of the fruit as nature intended.
Country of Origin: China
What Does This Taste Like?
Soft and chewy with a concentrated apple flavour. Pleasantly sweet with a texture that is just right, not too tough or too dry.
Health Benefits
1. Antioxidant-rich and contains high levels of vitamin C.
2. Good source of soluble fibre that helps to lower blood cholesterol and pectin that aids gut health.
3. Contains potassium which benefits heart health and may help prevent cardiovascular diseases.
4. Aids digestion and improves intestinal health.
5. Helps to maintain healthy skin, respiratory system and eyesight.
6. May aid weight loss and relieve symptoms of anaemia.
7. Helps maintain healthy skin.
Usage Directions
Open packet and consume directly.
How To Consume
1. Consume directly on its own.
2. Add as a topping to yogurt, acai bowl, smoothies, ice cream or parfait.
3. Add to salads.
Ingredients
Apple, sugar, salt
Allergy Information
-None-
Storage Instructions
Store in an airtight container or in its original resealable bag to maintain freshness. Keep in a cool, dry place. Avoid exposure to sunlight or excessive heat.
Related Products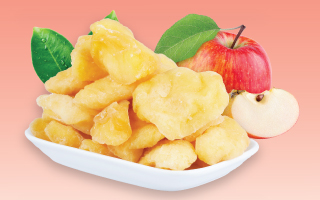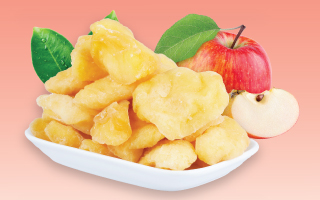 Dehydrated Apple Slices
(120g)