Signature Market
Green Tea Multigrain Powder
(500g)
Selling : RM 32 (Save 28%)
(
log in
for member pricing )
Natural
About This Product
Go green and supplement your clean eating journey with our Green Tea Multigrain Powder for a lean, mean silhouette! Now you no longer have to take your wheatgrass shots separately from your daily cup of green tea when you have our 24-in-1 multigrain powder. This beverage is made from 24 wholesome grains and legumes that supply you with plenty of key nutrients necessary for a healthy diet while the added green tea and wheatgrass gives you a potent boost of antioxidants and chlorophyll as well. Due to the high dietary fibre and plant-based protein content (up to 4.4g of protein per serving) from the grains and legumes used, this beverage will help keep you full until your next meal without causing any sudden spikes in blood sugar, plus it's suitable for individuals of all ages too!
Fun Fact:
Wheatgrass and green tea are popular all-natural fat burning ingredients.
Country of Origin: Malaysia
What Does This Taste Like?
-None-
Health Benefits
1. Packed with antioxidants and rich in dietary fibre, plant-based protein (suitable for vegans and vegetarians), chlorophyll and vitamins.
2. Boost metabolism and helps burn calories.
3. Aids concentration and may enhance moods.
4. Rich in vitamin C, iron, selenium, chromium, zinc and magnesium.
5. Contains catechins (polyphenol antioxidants) which aren't found in other foods, particularly EGCg that gives it its cancer-fighting properties and ability to counteract free radicals in the body.
6. Wheatgrass is an excellent source of many different vitamins and minerals. It is especially high in vitamins A, C and E, as well as iron, magnesium, calcium and amino acids.
7. Wheatgrass is rich in antioxidants, particularly glutathione and vitamin C which also help to fight free radicals in the body and improve skin complexion.
8. Chlorophyll content also helps to detoxify harmful elements such as chemicals and heavy metals from the body.
9. Protects the liver and heart by increasing the metabolic rate and burning fat.
10. Promotes satiety due to its fibre-rich content and may aid with weight control. A combination of protein and fibre also work well to slow digestion which helps to promote a feeling of fullness and thus curb appetite. It also aids in reducing blood sugar and helps prevent insulin resistance.
Usage Directions
Add 25g of Green Tea Multigrain powder into 150ml of warm water. Stir well and serve.
*Adjust amount of water used according to personal preference.
How To Consume
See usage directions.
Ingredients
Green Tea, Wheatgrass, Soy, Oat, Brown Rice, Rice Bean, Flower Bean, Corn, Pine Nut, Gingko, Lotus Seed, Buckwheat, Walnut, Job's tears, Black Bean, Black Sesame, Red Bean, Green Bean, Lily Turf, Chinese Yam, Euryale Seed, Poria, Medlar, Lily Bulb, Sorghum, Millet, Guar Gum, Fructose.
Allergy Information
Contains soy and nut products.
Storage Instructions
Store in an airtight container to maintain freshness. Keep in a cool, dry place. Avoid exposure to sunlight or excessive heat.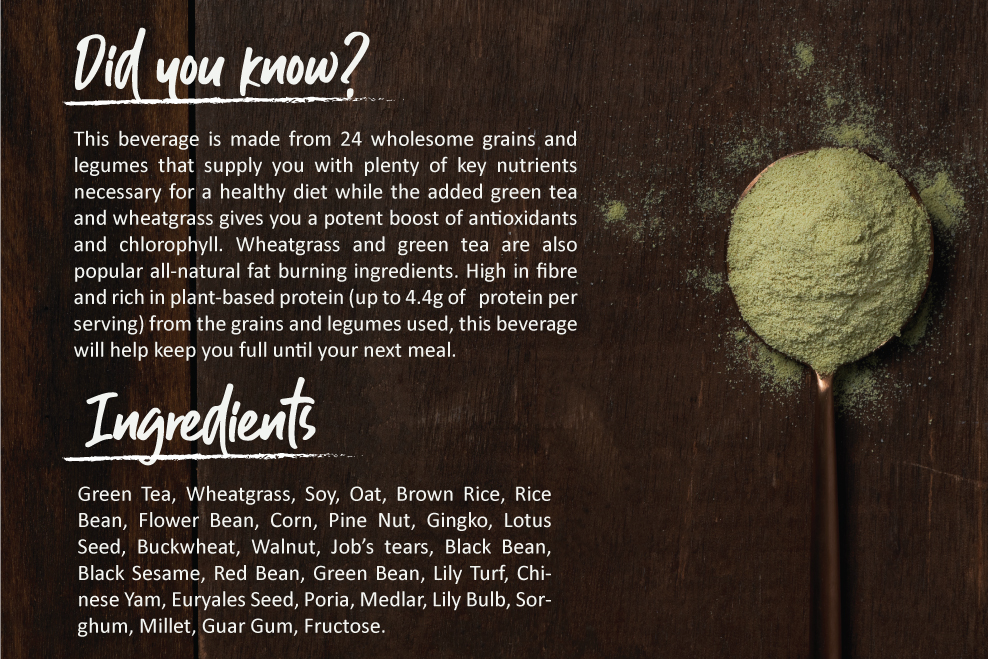 Related Products
Green Tea Multigrain Powder
(500g)