Signature Market
Tempeh Bites-Spicy Shrimp
(150g)
Selling : RM 12 (Save 14%)
(
log in
for member pricing )
Natural
About This Product
Tired of the usual chips and crackers? Think normal tempeh is just too bland? Give our Tempeh Bites-Spicy Shrimp a try instead! Pairing deliciously savoury, nutty, spicy and umami flavours with the crunchy texture of chips, our Tempeh Bites aren't just addictive, they're healthy too. Made from fermented soybeans, tempeh is a versatile ingredient due to its milder flavour and it's often used as a meat replacement when in its original block form. Packed with plenty of plant-based protein, probiotics and calcium, they're a great way to enjoy a crispy snack while supplementing your protein and calcium intake. We've amped up the flavour even more with umami-rich shrimp and spicy dried peppers for a healthier take on spicy prawn crackers. Eat them on their own, crumble them and use them as a garnish for salads, soups and more - the possibilities are endless.
Country of Origin: Malaysia
What Does This Taste Like?
A savoury crispy chip with a hint of nuttiness and spicy umami flavour from the shrimp.
Health Benefits
1. Tempeh is rich in plant-based protein. Protein-rich diets stimulate thermogenesis leading to an increase in metabolism which helps the body burn more calories.
2. Good dairy-free source of calcium, approximately 166g of tempeh contains ⅔ the amount of calcium found in one cup of whole milk.
3. Improves gut microbiota which subsequently helps improve digestion and absorption of nutrients.
4. Promotes improved appetite, satiety and diet-quality as compared to high-fat snacks.
5. May significantly decrease bad cholesterol and triglyceride levels.
6. Protects liver and may reverse damage to liver cells.
7. High in isoflavones which may help reduce hot flashes and other symptoms of menopause as well as provide protection against age-related diseases (cardiovascular diseases, osteoporosis, hormone-dependent cancer, loss of cognitive function).
8. Shrimp are rich in selenium, a mineral that may help reduce inflammation and promote heart health.
9. Shrimp are one of the best natural food sources of iodine and zinc which is essential for proper thyroid function and brain health. Zinc also helps curb the appetite while iodine helps maintain the basal metabolism of the body.
Usage Directions
Open packet and consume.
How To Consume
1. Open packet and consume directly.
2. Use as a base for dips such as salsa, guacamole dips and so on.
3. Add on as part of a charcuterie and cheese board.
4. Crumble them and use them as a garnish for salads, soups and noodles.
Ingredients
Tempeh, Dried Pepper, Dried Shrimp, Sugar, Salt.
Allergy Information
Contains soy, nut and shrimp products.
Storage Instructions
Store in an airtight container or in its original resealable bag to maintain freshness. Keep in a cool, dry place. Avoid exposure to sunlight or excessive heat.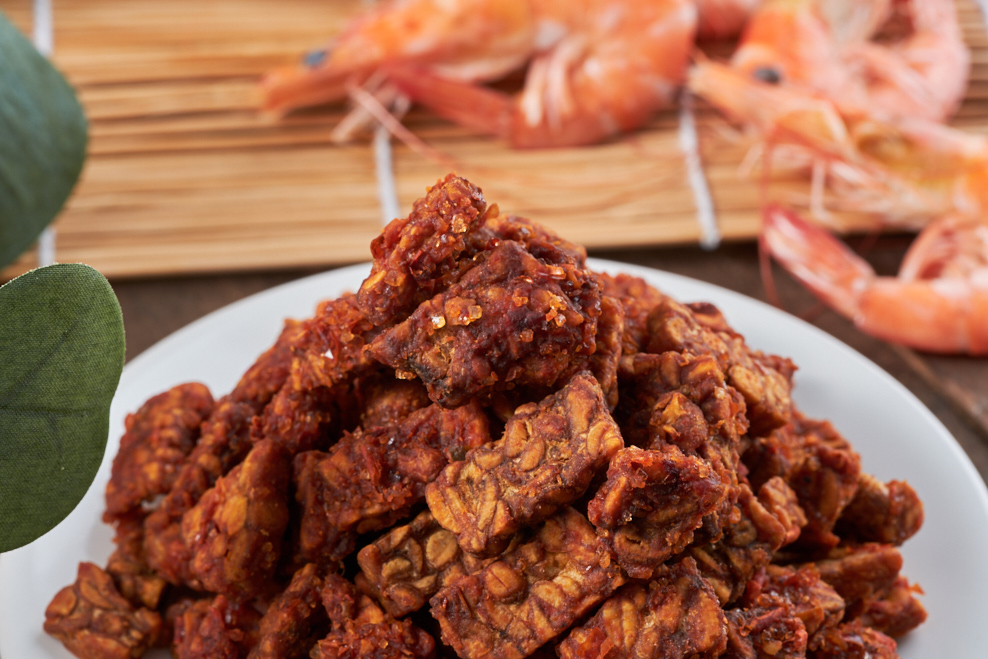 Related Products
Related Blogs
Ratings & Reviews
Share your feedback by reviewing this product. Help other shopper decide whether it's right for them.
Tempeh Bites-Spicy Shrimp
(150g)