Free Chunky Peanut Butter *
Signature Market
Mushroom Pepper Instant Ramen
(75g X 4 packs)
Retail : RM 22
Member : RM 12.9 (Save 41%)


About This Product

Ramen is just one of those dishes that's unparalleled when it comes to comforting the heart, soul and body thanks to its umami flavours and soothing warmth. Made with wholesome ingredients, our Mushroom Pepper Instant Ramen features MSG-free seasoning for a tantalising mushroom pepper clear soup and air-fried noodles made from unbleached wheat flour for a bowl of nutritious noodles to soothe your noodle-loving soul. Not only are our ramen noodles higher in fibre thanks to the wholemeal flour, they also contain less oil and are free from artificial colourings and preservatives. Indulge in a healthier bowl of instant ramen today with our Mushroom Pepper Instant Ramen.

Country of Origin: Malaysia

Ingredients
Wholemeal Noodles: Unbleached Wheat Flour, Whole-Wheat Flour, Filtered Water, Himalayan Salt.
Seasoning: Shiitake Mushroom Granule, White Pepper, Himalayan Salt.

Allergy Information
Contains wheat products. This product is not gluten-free.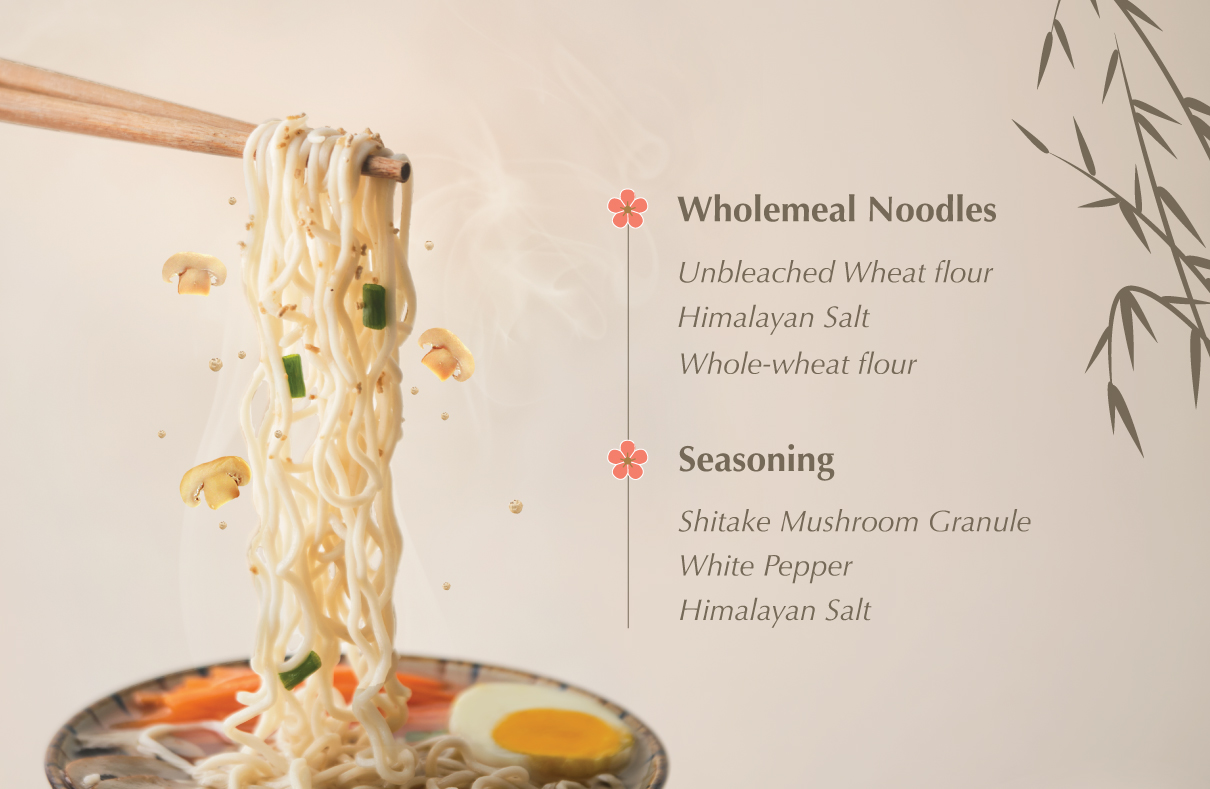 Related Products
Ratings & Reviews
Share your feedback by reviewing this product. Help other shopper decide whether it's right for them.
Sha****** S A from Bintulu, Sarawak | Posted 1 month ago
Love love
My 3rd purchase. Love them!
Anonymous | Posted 2 months ago
Can be better
Taste can be improved but otherwise definitely a healthier choice!
Tua* L from Ketereh, Kelantan | Posted 2 months ago
TEH S Y from 43200, Cheras, Selangor | Posted 2 months ago
Mushroom Pepper Instant Ramen (75g X 4 packs)
Taste ok.
roz**** h o from Seremban, Negeri Sembilan | Posted 4 months ago
ramen sihat
anyone looking for healthy ramen..so this it is..mild in taste and my second order
mar***** m from BATU ARANG, Selangor | Posted 4 months ago
Tan* S K from Ipoh, Kuala Lumpur | Posted 5 months ago
Love the strong pepper soup!
As per title, I love d good stinging taste of pepper. Noodles were OK
LEE** from CYBERJAYA, Selangor | Posted 7 months ago
Ng G E from Kuantan, Pahang | Posted 7 months ago
Value for money
Awesome deal and fresh too. Repeat buy. Cannot get enough of the Ramen. Looking forward for other flavors if available.
Christina chong from Kuala lumpur, Kuala Lumpur | Posted 8 months ago
Good product
Very natural taste instant noodles. Need to cook longer and seasoning need to stir well.
Mushroom Pepper Instant Ramen
(75g X 4 packs)