Free Delivery + Lifetime Membership

About This Product

Hunger pangs got you combing through your pantry looking for a quick bite? Before you reach for that packet of instant noodles, may we suggest "fresh" ones instead? Unlike most instant noodles which are typically fried, baked or dried, our Black Pepper Yaki Udon noodles utilise proprietary food processing technology to give it that distinctly chewy and springy mouthfeel without the use of artificial preservatives. This is definitely a dish u-don want to miss with wholesome wheat noodles lavishly blanketed in a flavourful paste made from chopped garlic, chicken stock, sesame seeds, black pepper and aromatic umami-rich sauces for a toothsome meal that packs a spicy punch. Chow down on our sizzling dry noodle dish that will take your taste buds on a gastronomic journey to Japan with its peppery, garlicky goodness in just 5 minutes!

Country of Origin: Malaysia

Ingredients
Noodles: Wheat Flour, Filtered Water, Modified Starch, Salt, Wheat Gluten, Natural Acidity Regulators (Glucono Delta-Lactone, Lactic Acid).
Paste: Garlic, Palm Oil, Soy Sauce, Oyster Sauce, Black Pepper, Sugar, Chicken Stock, Tomato Sauce, Sesame Seeds.

Allergy Information
Contains seafood, soy and wheat containing gluten.


Related Products
Ratings & Reviews
Share your feedback by reviewing this product. Help other shopper decide whether it's right for them.
Lu L Y from WP, Selangor | Posted 2 months ago
Tasty! To my expectation.
Advertisement sounds & looks good. Made a good choice to put in my cart. Love the peppery paste. Small packet but just nice for the whole udon. Didn't get to shop for fresh prawn & cook like adv pict, mixed seafood from 99mart. Will go well with any ingredients. 10th September 2022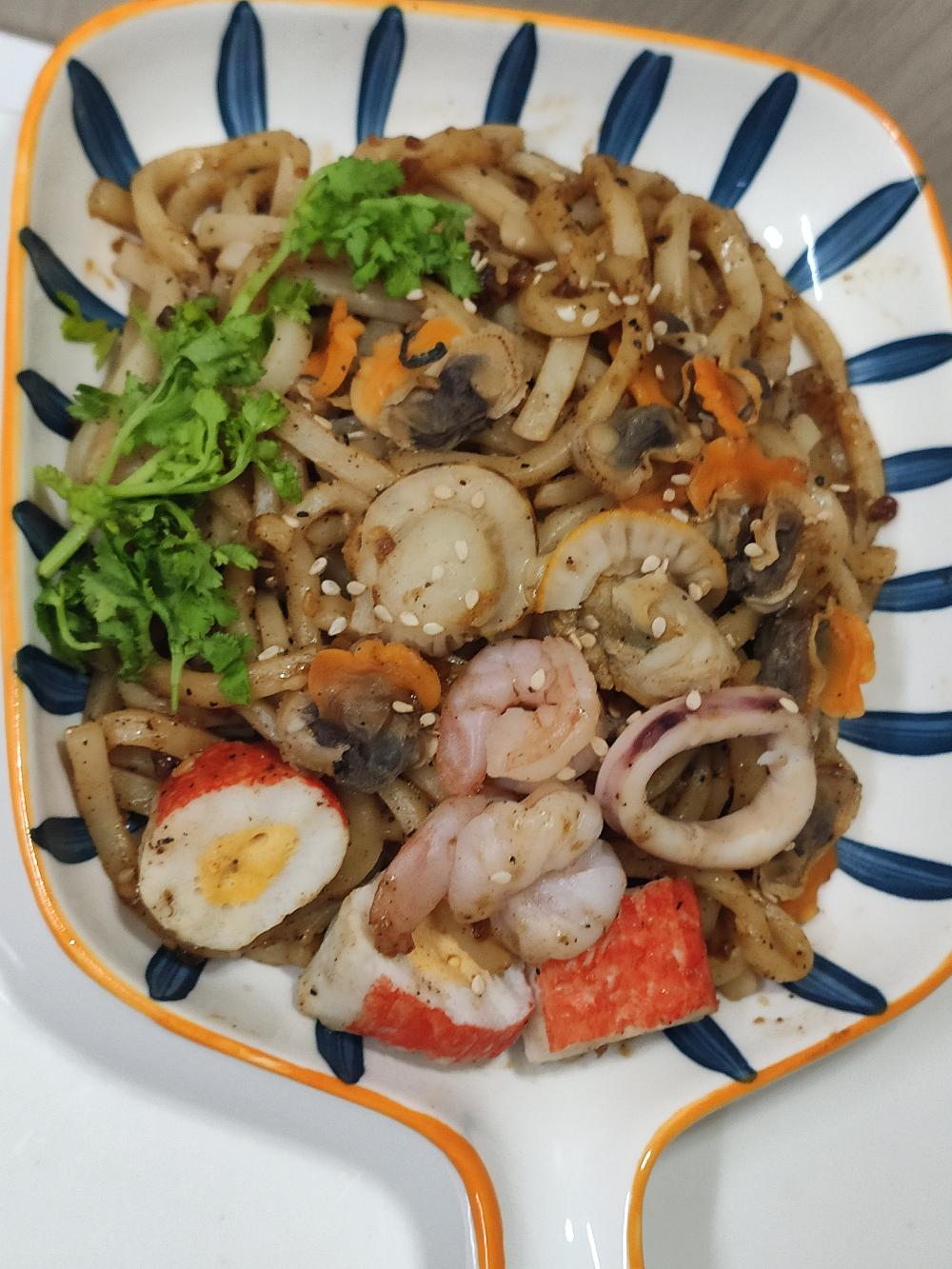 Lay T Y from Kuantan, Pahang | Posted 3 months ago
Black pepper Yaki Udon
3rd time buying. Love the peppery sauce. Would be better if the sauce is a bigger pack
NG S R from BUTTERWORTH, Penang | Posted 4 months ago
Great
Love the taste ….black paper ❤️
Phu** W X from Sitiawan, Perak | Posted 5 months ago
Spicy peppery
If you like the peppery kind of spicy then this is for you. I like it
wan s t from GEORGETOWN, Penang | Posted 5 months ago
A bit disappointed
The taste is a bit too peppery and spicy, not my cup of mee.
LAU M Y from SIBU, Sarawak | Posted 6 months ago
Too peppery
Taste great. Suitable for people who love black pepper.
Sus** C from Subang Jaya , Selangor | Posted 7 months ago
Black Pepper Yaki Udon (228g x 3 packs)
Very spicy but still OK.
CHA***** P from GELUGOR, Penang | Posted 8 months ago
very nice!
i am a huge black pepper fan. Very peppery taste. Good!
Lim L P from Bukit Mertajam, Penang | Posted 9 months ago
not bad
Not bad, black pepper tastes not very spicy, portion is just right.
Black Pepper Yaki Udon
(228g x 3 packs)