Signature Market
Organic Okinawa Purple Sweet Potato Quinoa Millet Powder
(500g)
Selling : RM 45 (Save 13%)
(
log in
for member pricing )

About This Product

Did you know that Okinawan sweet potatoes are actually from the morning glory family? This uber pretty tuber is gains its purple hues from its high levels of anthocyanin, an antioxidant. It also has the usual benefits of sweet potatoes such as being rich in vitamin A, vitamin C, manganese, copper, dietary fibre, vitamin B6, potassium and iron. Sweet potatoes are known to aid with regulating blood sugar levels as well as having significant antibacterial and antifungal properties. However, the Okinawan purple sweet potatoes are known more for their fantastically high levels of antioxidants which are at least 150% more than blueberries! This makes the Okinawan purple sweet potato effective in preventing cardiovascular diseases and cancer.

Country of Origin: Australia

What Does This Taste Like?
-None-

Health Benefits
1. Antioxidant-rich, helps prevent cardiovascular diseases and cancer. Contains up to 150% more antioxidants than blueberries.
2. Alkaline in nature. Helps to balance out the body's increasing acidity levels often incurred due to stress and pollution.
3. High in dietary fibre, protein, potassium, manganese, copper, phosphorous, magnesium, zinc, selenium, folate, iron, Omega-3, vitamin A, B and C as well as other trace minerals.

Usage Directions
1. Add 25g of Organic Okinawa Purple Sweet Potato Quinoa Millet Powder into 150-200ml of warm water.
2. Stir well and serve warm.

How To Consume
-None-

Ingredients
Organic Japanese Purple Potato, Organic Millet (Certified by NASAA), Organic Black Rice (Certified by NASAA), Organic White Quinoa (Certified by NASAA), Organic Black Quinoa (Certified by NASAA), Organic Red Quinoa (Certified by NASAA), Organic Almond, Organic White Sesame, Organic Brown Rice (Certified by NASAA), Soy Lecithin (non-GMO), Oligosaccharide.

Allergy Information
Contains nut products (almonds).

Storage Instructions
Store in an airtight container to maintain freshness. Keep in a cool, dry place. Avoid exposure to sunlight or excessive heat.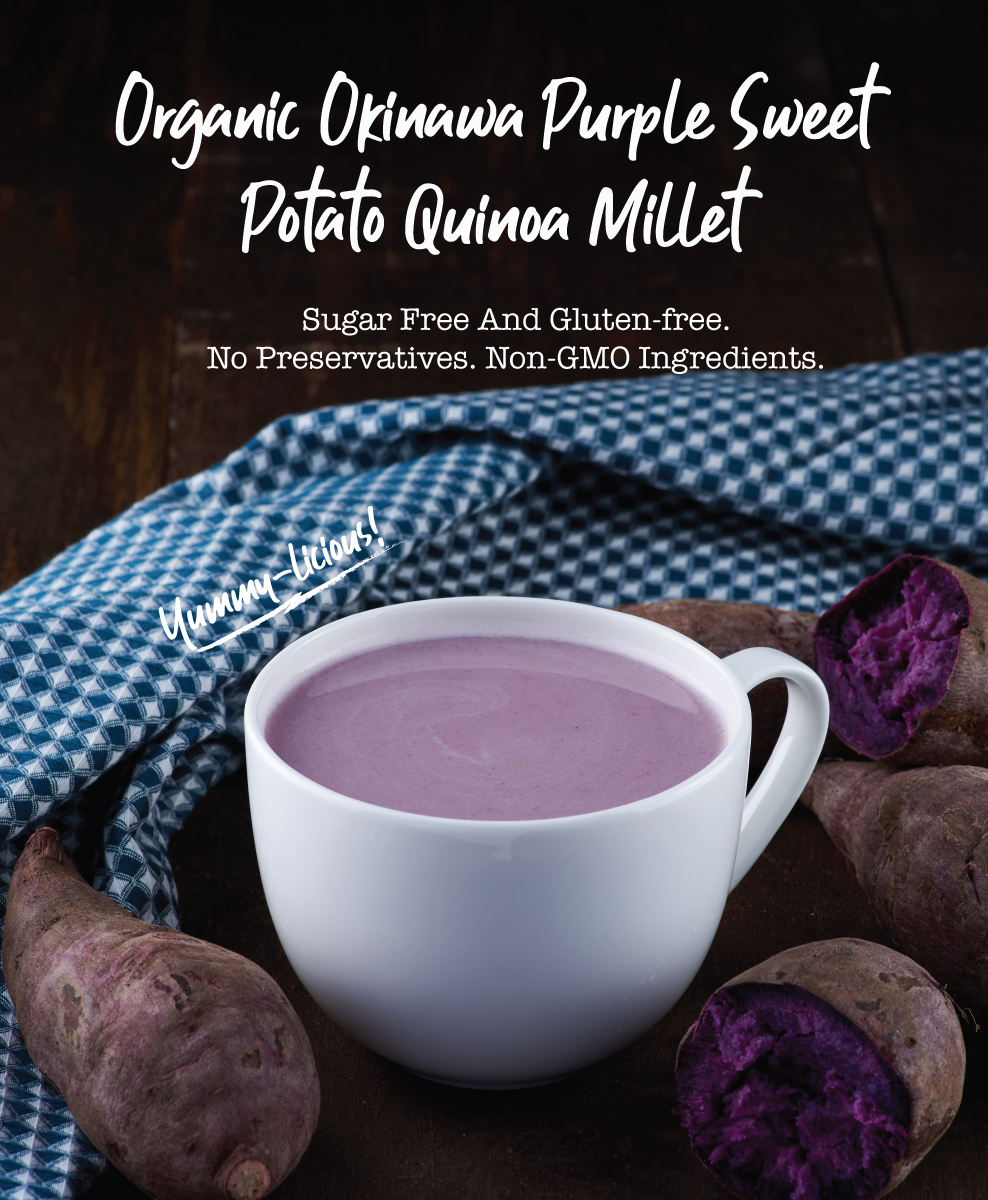 Related Products
Ratings & Reviews
Share your feedback by reviewing this product. Help other shopper decide whether it's right for them.
LuA********* from Bkt.Pasir,Muar, Johor | Posted 2 days ago
Good product
Love this powder, it's very good for pregnant woman!!
Jes**** W W T from Gelugor , Penang | Posted 2 weeks ago
Tan Xinyi from klang, Selangor | Posted 2 months ago
Very yummy
Love this! It smells and tastes sooooo good !
Organic Okinawa Purple Sweet Potato Quinoa Millet Powder
(500g)