Free Delivery + Lifetime Membership

About This Product

Love getting your daily dose of chocolate milk? What about a healthier switch to a delicious chocolate almond drink instead of the sugar filled variety sold at supermarkets? Get your cravings satisfied with a healthier option like our Organic Chocolate Almond Powder.
Filled with good fats and vitamins for healthy skin nails and more, almonds are a great way to introduce nuts into your diet if you're not keen on munching on a handful of them. Easy and quick to prepare, our Organic Chocolate Almond Powder will be your new best friend in mornings when you're reaching for that power drink to get your through the day.

Country of Origin: Australia

What Does This Taste Like?
A nutty version of your favourite chocolate milk.

Health Benefits
1. Powerful source of antioxidants such as polyphenols which can aid in regulating blood sugar levels.
2. May improve mood and alleviate some symptoms of depression.
3. Flavanols in cocoa can help improve symptoms of Type 2 Diabetes.
4. Cocoa contains anti-asthmatic compounds such as theobromine and theophylline thus helping people with asthma.
5. High in vitamin E which promotes healthy hair, skin and nails. It also has anti-aging benefits, lowers the rate of cancer and Alzheimer's.
6. May help prevent cardiovascular diseases and promote eye health.
7. High in healthy monounsaturated fats, fibre and protein which helps with effective weight control.
8. Contains high amounts of manganese, magnesium, calcium, iron and zinc which can supplement our body's required daily intake of nutrients.
9. Antioxidant-rich properties which help protect cells from oxidative damage.
10. Helps control blood sugar and blood pressure levels.

Usage Directions
Add about 2-3 teaspoons of Organic Chocolate Almond Powder to 150ml hot water (makes one cup) and stir well. Add ice if cold beverage is preferred.

How To Consume
1. Drink it on its own or paired with cookies for tea time.
2. Pour into ice cream moulds and freeze for a deliciously nutty-chocolatey popsicle.

Ingredients
Organic Almond, Flaxseed Oil, Organic 60% Dark Cocoa, Organic Milled Oat, Oligosaccharide.

Allergy Information
Contains nut products (almonds).

Storage Instructions
Store in an airtight container to maintain freshness. Keep in a cool, dry place. Avoid exposure to sunlight or excessive heat.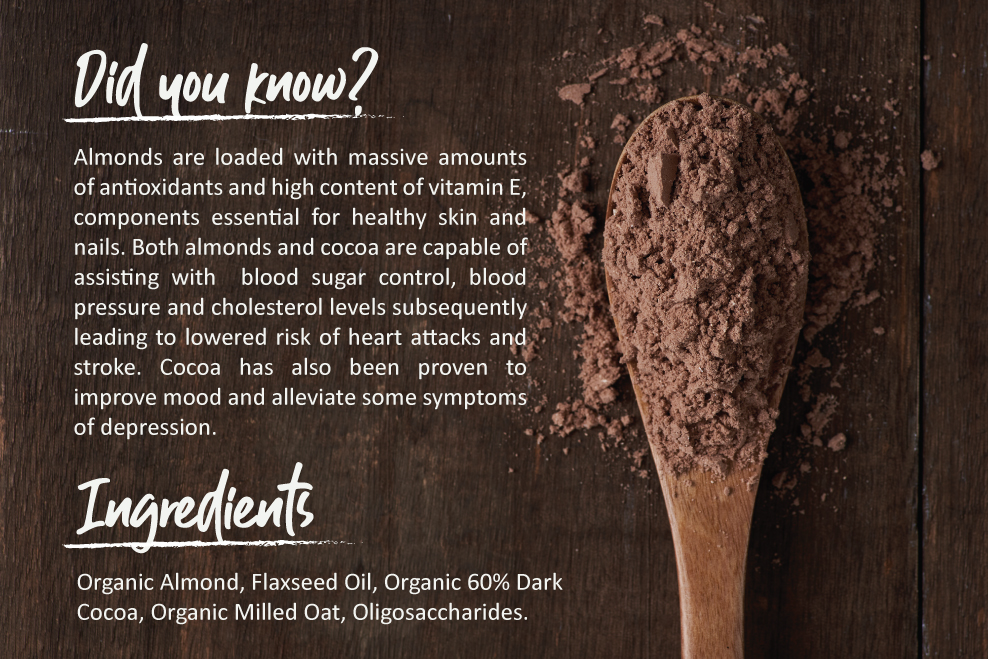 Buy 3 Get Free Gift
Related Products
Ratings & Reviews
Share your feedback by reviewing this product. Help other shopper decide whether it's right for them.
Gay****** S from Farlim,Air Itam, Penang | Posted 1 month ago
Delicious!
It tastes almost similar like a normal chocolate milk, doesn't feel like drinking almond milk😁
SIT* A M S from KUALA LUMPUR, Kuala Lumpur | Posted 1 month ago
Good for breakfast
Taste better when u add some milk to it.
SAH****** M Z from Petaling Jaya, Selangor | Posted 2 months ago
very tasty taste 😋
hot chocolate with almond powder to drink once definitely want more 🥰
Win*** Y from Petaling Jaya, Selangor | Posted 2 months ago
Good quality and value for money
Repeated purchases.
Win*** Y from Petaling Jaya, Selangor | Posted 2 months ago
Good quality and value for money
first tasted this drink from my sister-law and like - reason for this purchase
chi** p c from kuantan, Pahang | Posted 3 months ago
good
i like the taste and it is not sweet, i always serve with muesli
LIM P T from Alor Setar, Kedah | Posted 3 months ago
for chocolate lovers
the chocolate taste is not that strong while the almond aroma is heavy. As a chocolate lover myself, would have prefer a stronger chocolate taste compare to the almond
Eme*** A from Ampang, Selangor | Posted 5 months ago
Simply sedap!
Totally love the almond flavor.
Organic Chocolate Almond Powder
(500g)