Signature Market
Organic Chocolate Almond Powder
(500g)
Selling : RM 45 (Save 14%)
(
log in
for member pricing )
Organic
about this product
Organic, Non-GMO, Premium Quality
Country of Origin: Australia
Almond existed since centuries but has only been cultivated since decades when reseachers discovered the properties it contribute to health for both young and old. In the stressful society today, almond can provide nutrients required to protect us from many health issues like cancers, Alzheimer, diabetes, high blood pressure and etc. Wait no more but include this super nut into our diet.
What's so special about Signature Market Organic Almond Chocolate Powder?
Use high quality organic ingredients with modernized technology to create this nut into powder form for instant consumption without altering their nutrients quality. A super food beverage full of nutrients and minerals designed for those who envy the goodness of nut and yet cannot spare one's time to prepare them. Signature Market makes it possible for you to enjoy this beneficial drink in our 'rush rush' world today.
We assure you that our Signature Market Organic Almond Chocolate Powder contains only high quality pure organic ingredient. It strictly contains no GMO ingredients, no chemical additives, no preservatives, no colourings, no flavourings, no trans-fat, no dairy especially no anti-caking agent.
Health Benefits:
• Anti-inflammatory and anti-hepatotoxicity (weak liver)
• Nutrients powerhouse for cancer and Alzheimer preventions
• Improve digestive system by providing prebiotics
• Improve metabolism such as better skin complexion, reduce menstrual pain, insomnia
• Contain healthy fats to protect heart disease and lower bad cholesterol
• Contain high vitamin-E and flavonoids for strengthening lung functions
• Fiber, good nut fats and low GI suppress hunger well for effective weight control
Suitable For:
• Elderly. Especially those who are always tired or lack of energy
• Men and women. Especially those who are always tired or lack of energy
• Men and women with weak kidney, weak lung and rapid aging problems
• Men and women who are always in rush but wish to maintain healthy
• Smokers especially heavy smokers
• Children who are always active or do not like fruits and vegetables
• Children above 1-year old
• Vegan, diabetic.
Ingredients: Organic almond, Flaxseed Oil, Organic 60% Dark Cocao, Organic Mealed oat, Oligosaccharides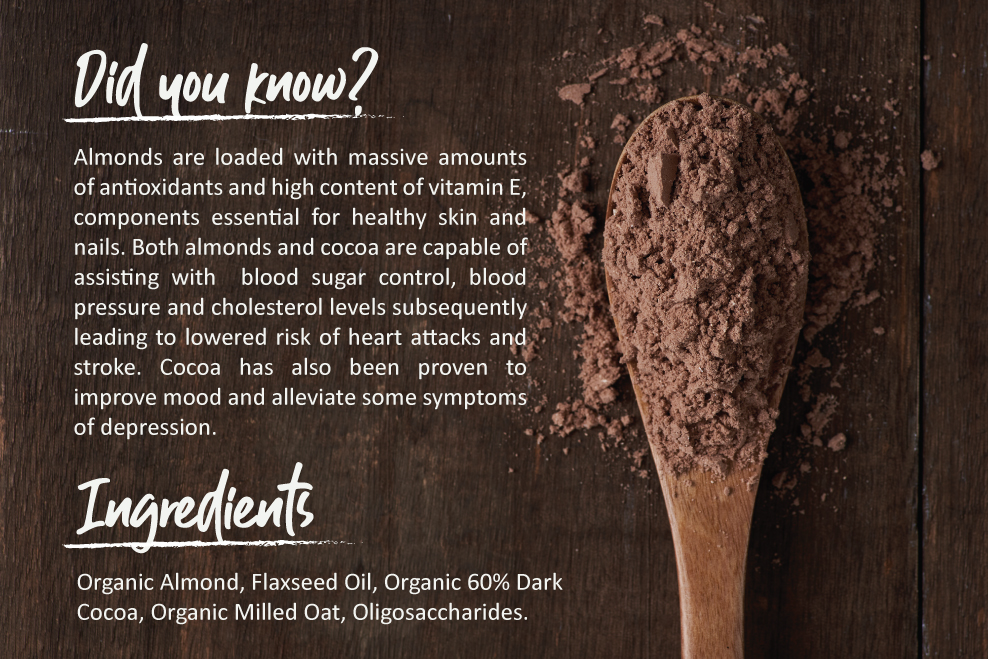 Powder Beverage
Breakfast
Health & Beauty
Home