Free Own Your Power Tumbler*
Signature Market
Diced Apple Bites
(100g)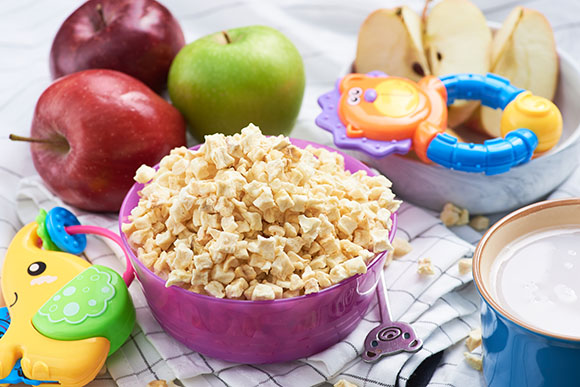 Retail : RM 20
Member : RM 10 (Save 50%)


About This Product

An apple a day keeps the doctor away so keep your vitamin intake up with our Diced Apple Bites! Boring breakfast? Mix it up with our Diced Apple Bites for added crunch and flavour! Apples are rich in fibre, vitamin C, potassium and antioxidants, making them great as snacks on their own or when added to main meals. Made with all-natural unsulphured apples with no artificial sweeteners, flavouring, colouring or preservatives, our Diced Apple Bites is a delicious and nutritious way to spruce up your yoghurt, overnight oats and baked goods.

County of Origin: Malaysia

Ingredients
Dried Apple.

Allergy Information
-None-


Related Products
Ratings & Reviews
Share your feedback by reviewing this product. Help other shopper decide whether it's right for them.
Sun*** U S S from Butterworth, Penang | Posted 2 weeks ago
not bad
to small to chew,if eat much too hard to chew
Sha***** A S from MASJID TANAH, Melaka | Posted 1 month ago
5 start for healthy snacking
Healthy snacks, can bring along during hiking , running or watching movies .should buy more as a stock ..price affordable 👍👍👍👍
Bil*** L from Subang Jaya, Selangor | Posted 2 months ago
Very special !
First time tried this, not bad to eat. After start eating...cant stop it.
ANG X T from Kuala Lumpur, Kuala Lumpur | Posted 4 months ago
Nice snacks
It tastes good when I mix with fresh salad
Pav********* R from Nilai, Negeri Sembilan | Posted 4 months ago
chewy apple bites
chewy cubes ideal for oatmeal. naturally sweet.
Nic***** L from Puchong, Selangor | Posted 4 months ago
Healthy Snacks
Healthy snack and suitable for everyone, even babies. Since it has no artificial flavouring and colouring, I gave it to my guinea pig and he loves it.
TEH LEE YUN from YONG PENG, Johor | Posted 6 months ago
早餐的好伙伴
把它放入麦片or燕麦里就超好吃的~ 咬了之后 有微甜的苹果味 我现在每天都会放它❤ 超推荐它d~