Free Own Your Power Tumbler*

About This Product

Crispy, crunchy, savoury with just a touch of heat - our Sriracha Thai Grain Cracker is ready to spice up your life! No greasy fingers, artificial flavour, colours, MSG or empty calories here because our Sriracha Thai Grain Crackers are baked (minimal oil used) instead of fried and made from all-natural ingredients featuring a flavourful blend of 6 nutritious grains - perfect as a cheat treat or quick snack for when you feel peckish. Each delicious cracker is packed with complex carbs, plant-based protein, B vitamins, folate, calcium and magnesium for a snack that's not just delicious, but a healthier alternative to the MSG-laden rice crackers available on the market.

Country of Origin: Malaysia

Ingredients
Rice, Black Soybean, Adzuki Bean, White Sesame Seed, Black Sesame Seed, Quinoa, Sriracha Seasoning, Rice Bran Oil.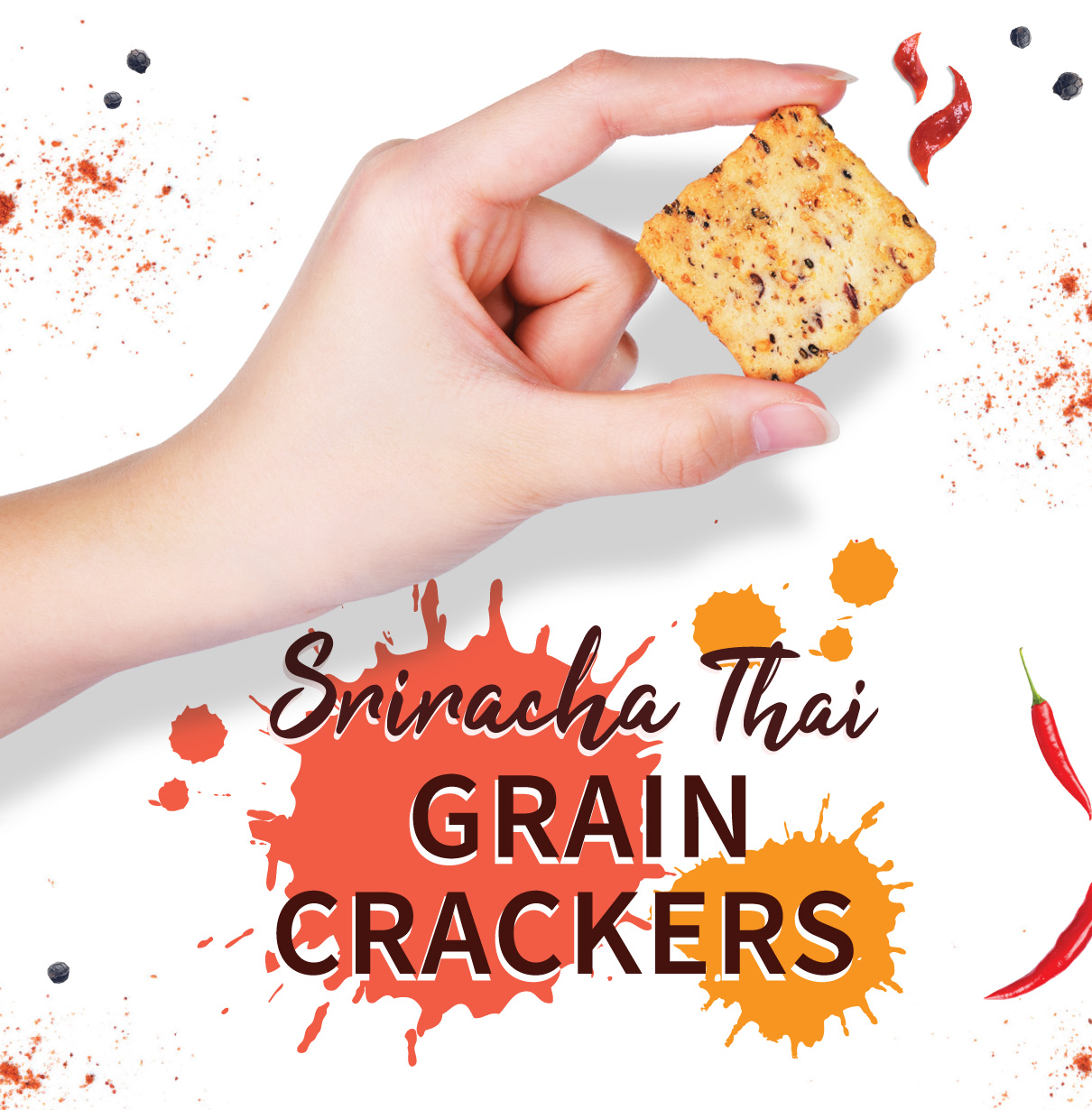 Buy 3 Get Free Gift
Related Products
Ratings & Reviews
Share your feedback by reviewing this product. Help other shopper decide whether it's right for them.
Naj** b M N from Yong Peng, Johor | Posted 2 months ago
The only cracker I need
Crispy with balance spices taste
Lyn* G from Georgetown, Penang | Posted 3 months ago
Healthy snack , spicy a bit
It's a good snack. It has that little mini chili padi spiciness.
Jas**** S from Kuala Lumpur, Kuala Lumpur | Posted 3 months ago
Yummy !
Crackers have the right amount of spice !
Nur** W b A from Melaka, Melaka | Posted 4 months ago
Jan******** A from BANTING, Selangor | Posted 4 months ago
Scrumptious Addiction
This is my third time ordering this sinful delight. It goes well with any condiment even sambal ikan bilis. When you get the munchies, you want to scratch that itch!
Nur** W b A from Melaka, Melaka | Posted 5 months ago
Must try!!!
Love this. Not too spicy, crunchy and the saltiness are just nice 👍🏻
ANI* A A from Bayan Lepas, Penang | Posted 5 months ago
SHA**** A M N from Muar, Johor | Posted 6 months ago
Crunchy Thai Grain
Worth to buy! Spicy yet it's so delicious .Once you taste the first bite you can't stop it.Will purchase it again
Sriracha Thai Grain Cracker
(150g)