Free Pistachio Almond Trail Mix with any purchase*

About This Product

Real fruit, real veggie, real flavours. If you loved our Real Veggie Crisps then you'll fall in love with the pairing of sweet and savoury in our Real Fruit & Veggie Crisps! Made from 100% real vegetables without any artificial ingredients or preservatives, our Real Fruits & Veggie Crisps are made from the finest seasonal produce and vacuum fried for a less greasy crisp. Unlike traditional frying processes, vacuum-frying does not cause the oil to decompose, thus avoiding nasty carcinogens that often result from high heat frying. Plus, vacuum-frying also helps the fruit and veggies retain more of their nutrients for a crispy yet healthier snack!

Country of Origin: China

Ingredients
Potato, Purple Sweet Potato, Banana, Pumpkin, Beetroot, Apple, Yellow Peach, Okra, Long Bean, Palm Oil, Vegetable Starch, Sugar, Salt.

Certified Halal
This product has been certified as halal by JAKIM.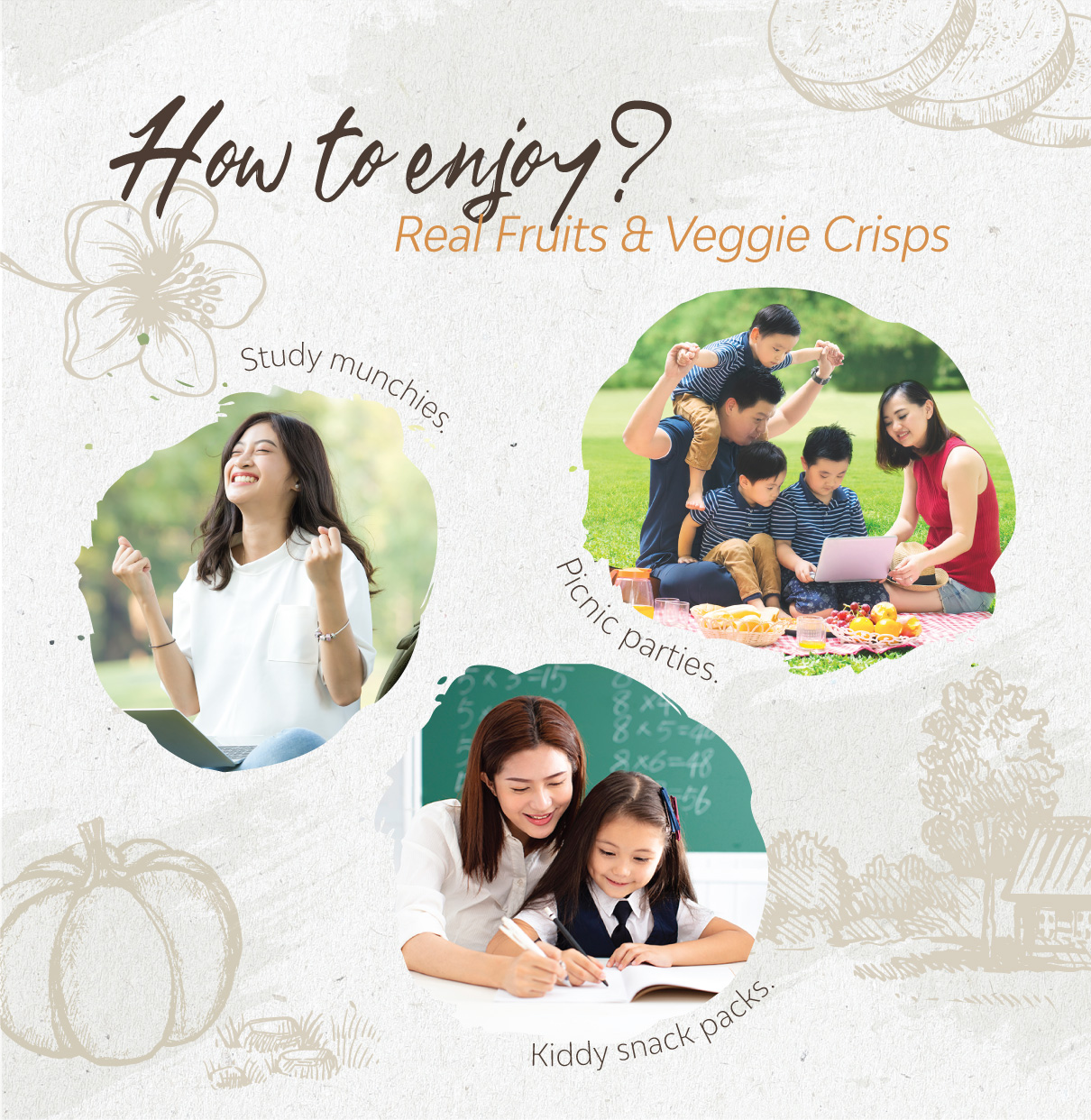 Buy 3 Rebate RM 6
Related Products
Ratings & Reviews
Share your feedback by reviewing this product. Help other shopper decide whether it's right for them.
Leo** s p from Seri Kembangan , Selangor | Posted 4 weeks ago
Real fruit and Veggie Crips
Fresh and crunchy food .
Haz** S from Ayer Itam, Penang | Posted 1 month ago
Nice
Very nice, I especially love the Okra. Love this red twin tower packaging and also the blue packaging for the tempeh. Something different from the usual green.
Suz**** from IPOH, Perak | Posted 1 month ago
Real fruits & veggie crisps
Delicious
Ti W S from Raub, Pahang | Posted 2 months ago
Che*** F from Seremban, Negeri Sembilan | Posted 3 months ago
Very nice
I love it!! Hope to get it restock asap
Gra** L M L from JOHOR BAHRU, Johor | Posted 4 months ago
Love it!
Very crispy and tasty! Will buy again!
Anonymous | Posted 4 months ago
Healthy snack
This snack is crisp and delicious..My whole family enjoys it.. Wish for zero sugar in future..Will repurchase again..
Ani* Q D from Bentong, Pahang | Posted 4 months ago
Teo Y w from Seremban, Negeri Sembilan | Posted 5 months ago
Delicious n fresh
Healthy snacks
Ann C from Ampang, Selangor | Posted 6 months ago
Fresh👍🏻
Fresh, shld look for bulk package
Far******* B from Ampang, Selangor | Posted 6 months ago
Delicious
Good taste but I wish if signature market could make it without sugar and less salt to make the snack more healthier.
Mie*** H from Port Dickson , Negeri Sembilan | Posted 7 months ago
Crispy
I love it and delicious
shu***** b a from Johor Bahru, Johor | Posted 7 months ago
Amazing food
Love it so much
Jen** L from Kuala Lumpur, Kuala Lumpur | Posted 8 months ago
Tasty
Is tasty. 2nd time purchase for big pack
Real Fruits & Veggie Crisps
(100g)