Signature Snack
Dehydrated Pineapple Rings (No Sugar Added)
(70g)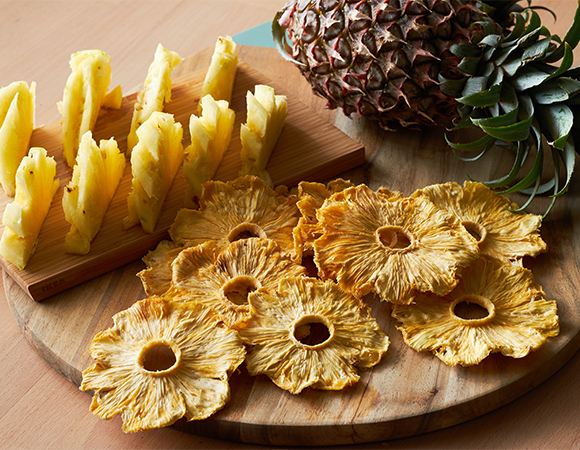 Selling : RM 7 (Save 65%)
(
log in
for member pricing )
Natural
about this snack
Country of Origin: Manufacture in Malaysia
Dehydrated Pineapple is a good source of dietary fiber, enzymes, antioxidants, vitamins and minerals. The nutrient inside the dried pineapple can enhance our immune function, cancer prevention and improved wound healing. High fiber in dried pineapple also can improve our gut health. It also can be the best choice for children who does not like to eat fruit and it also can consider as a healthy snack for children and adults.
What's so special about Signature Snack Naturally Dehydrated fruits?
Signature Snack Dehydrated fruits use the best available fruits in the season. Signature Snack Dehydrated fruits consists of 100% natural fresh fruits, no added sugar, no added flavourings or preservatives. All the dehydrated fruits are obtained from Pahang. The fresh fruits undergoes low temperature dehydrated processing in which the nutrients are preserved and firmly packed in every piece of dried fruits.
what this snack taste like?
Natural taste of pineapple
Ingredients:
100% natural fresh pineapple
Customers Also Bought
RM 14.00
RM 20.00 (Save 30%)
RM 8.50
RM 29.90 (Save 71%)
Dried Fruits
Breakfast
Health & Beauty
Home