Signature Market
Finest Crunchy Sambal Biscotti (Expiry on: 31 March 2020)
(100g)
Selling : RM 18 (Save 10%)
(
log in
for member pricing )
Natural
About This Product
Just when you thought we couldn't possibly put sambal into more things, we've done it again. Introducing our popular biscotti snack with a local twist: sambal. The ubiquitous sambal is making an appearance in our artisan baked crunchy biscotti and we're definitely here for it. Think salty, spicy and sweet - a crunchy, delightful bite of home all in one freshly baked biscotti slice. Not a fan of sweet snacks? Then this biscotti will be right up your alley as it's more savoury than sweet. Plus, it's also dairy-free which makes it suitable even for individuals with lactose intolerance!
Let the aromatic fragrance of sambal wash over you as you take a bite of these biscotti slices and be transported back into your mum's kitchen. The familiar shrimp taste of sambal married with the rich buttery, nutty crunch of our biscotti make for a snack you'll never forget.
Country of Origin: Malaysia
What Does This Taste Like?
Deliciously crunchy until it melts in your mouth. Infused with the tantalizing aroma of sambal and enriched with almond slices. Mildly spicy, sweet, savoury, distinctive sambal taste.
Health Benefits
1. Almonds are rich in vitamin E which promotes healthy hair, skin and nails. It also has anti-aging benefits, may lower the rate of cancer, cardiovascular diseases and Alzheimer's. Not only is it high in monounsaturated fats, fibre and protein which helps with effective weight control, it also contains high amounts of manganese, magnesium, calcium, iron and zinc. Almonds are also antioxidant rich and may help control blood sugar and blood pressure levels.
2. Sambal consists of garlic, onions/shallots, ginger, lime and red chilli which are all natural and effective blood cleansers.
3. The red chillies used in sambal contain capsaicin that are often used for its analgesic properties and may help with weight loss. Chillies are also antioxidants.
4. Capsaicin contained in red chillies can aid diabetes prevention.
Usage Directions
Open packet and consume.
How To Consume
Eat it directly from the packet as it is or dipped into a cup of your favourite beverage. We recommend a hot cup of coffee, chocolate or milky tea.
Ingredients
Wheat Flour, Egg White, Sugar, Almond, Spicy Shrimp Mixture, Emulsifier (E481 & E471), Salt.
Allergy Information
Contains nut, egg, crustacean (shrimp) and wheat products.
Storage Instructions
Store in an airtight container or in its original resealable bag to maintain freshness. Keep in a cool, dry place. Avoid exposure to sunlight or excessive heat.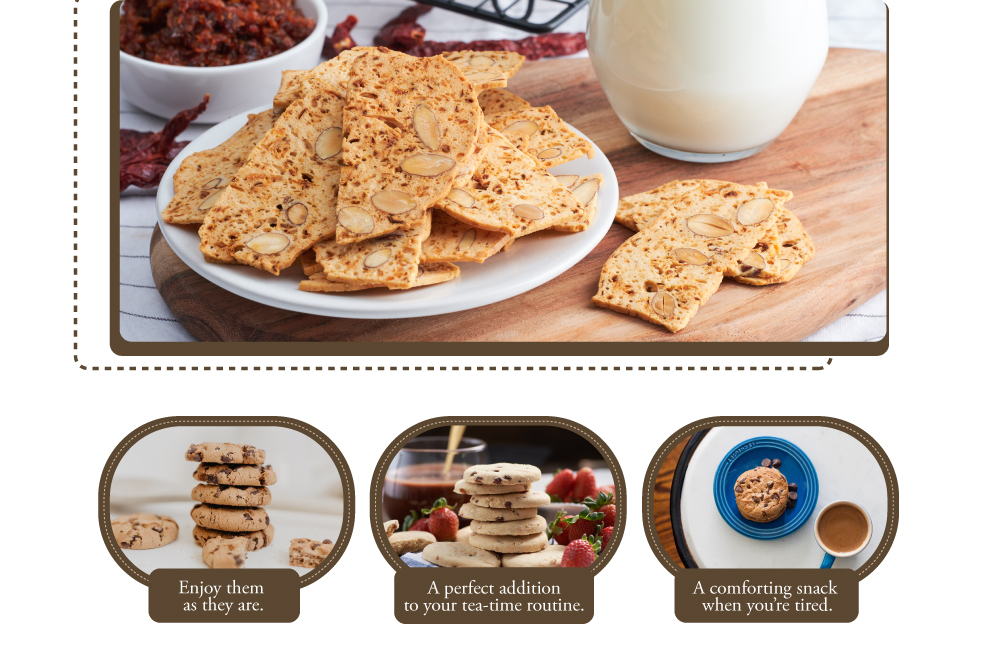 Related Products
Special
Signature Market
Food
Babies & Kids
Health & Beauty
Home