Signature Market
Finest Crunchy Pandan Biscotti
(100g)
Selling : RM 16 (Save 20%)
(
log in
for member pricing )
Wholesome Cookies
About This Product
Go loco over coconut and pandan flavours with our Finest Crunchy Pandan Biscotti! Infused with the aromatic fragrance of pandan and the sweetness of coconut, this artisan baked biscotti combines the best of local flavours with western pastries to bring you a treat that's worth a spot in your teatime spread. Plus, it's also dairy-free which makes it suitable even for individuals with lactose intolerance!
Best described as a grassy scent with hints of rose, almond and vanilla, screw pine leaves, better known as pandan are often found in Malaysian cooking. The sweet-smelling leaves are crushed and its juice infused into Malaysian favourites such as cendol, pandan flavoured kuih bangkit and kuih seri muka amongst many others. The humble leaf complements the milky sweetness of coconut and gives it a richer and more refreshing taste when combined.
Country of Origin: Malaysia
Ingredients
Egg White, Wheat Flour, Sugar, Almond, Coconut Powder, Toasted Coconut, Pandan Extract, Salt, Emulsifier (E481 & E471).
Allergy Information
Contains nut, egg and wheat products.
Storage Instructions
Store in an airtight container or in its original resealable bag to maintain freshness. Keep in a cool, dry place. Avoid exposure to sunlight or excessive heat.
Related Products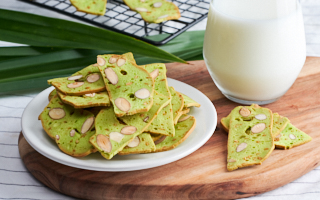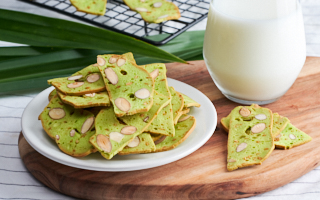 Finest Crunchy Pandan Biscotti
(100g)