Plant Origins
Plant Origins Reed Diffuser - Finding Peace
(100ml)
Selling : RM 60 (Save 50%)
(
log in
for member pricing )
100% Aromatherapy
About this product
Feel the gentle rise and fall of your chest with each breath. The tension unravelling, floating away from you as you inhale and exhale the soothing scents of sweet orange, jasmine, sunflower, ylang ylang, grapefruit, geranium, peppermint and marjoram. Drift off into tranquillity as you're transported into the lushness of a hidden forest, the lightest of breezes caressing your skin. Close your eyes and breathe in deep, find your inner peace. Create your very own haven of serenity in the heart of your home with our Plant Origins Reed Diffuser - Finding Peace.
Reed diffusers are minimalist and functional decorations that require no heat whatsoever to diffuse exquisite fragrances throughout your chosen space. As they require no burning, they are kid and pet-friendly options unlike traditional aromatherapy burners. Reed diffusers are a safer alternative to candles and also don't require any clean up as there's no wax, soot or ash residue left behind. Not only are they easier to maintain, they can last for as long as several months as opposed to candles or fragrance sachets, require no electricity to operate and will give you a scent that's consistent. Our Plant Origins Reed Diffusers comprise a bouquet of essential oils which are 100% natural and plant-based, curated entirely without artificial fragrances.
Country of Origin: Malaysia
Health Benefits
1. Increases energy and uplifts mood.
2. Reduces stress, symptoms of anxiety and depression.
3. Promotes mental clarity.
4. May aid in mild cases of insomnia.
5. Helps lower blood pressure.
Usage Directions
1. Place the reed sticks into the reed diffuser bottle to absorb the essential oils.
2. Flip the reed sticks so that the side unsaturated with essential oils (dry side) is now facing downwards into the bottle and the saturated end is in the air.
3. Place the unsaturated end of the reed sticks into the bottle.
4. Allow the fragrance from the reed diffuser to naturally permeate your space.
Cautions
1. Prevent spillage of essential oils on wooden surfaces as the oils may leave a ring stain. It is recommended that the reed diffuser bottle is placed on a coaster, ceramic or glass surface. Always wipe the bottom of your diffuser bottle prior to setting it down on a surface.
2. Keep diffuser essential oils away from open flames as essential oils are flammable.
3. Do not ingest essential oils.
4. Keep out of reach of children and pets.
Ingredient
Essential oil: Sweet orange, jasmine, sunflower, ylang ylang, grapefruit, geranium, peppermint, marjoram
Diffuser oil: Methanol
Storage Instructions
Store in a cool, dry place. Keep away from heat and direct sunlight.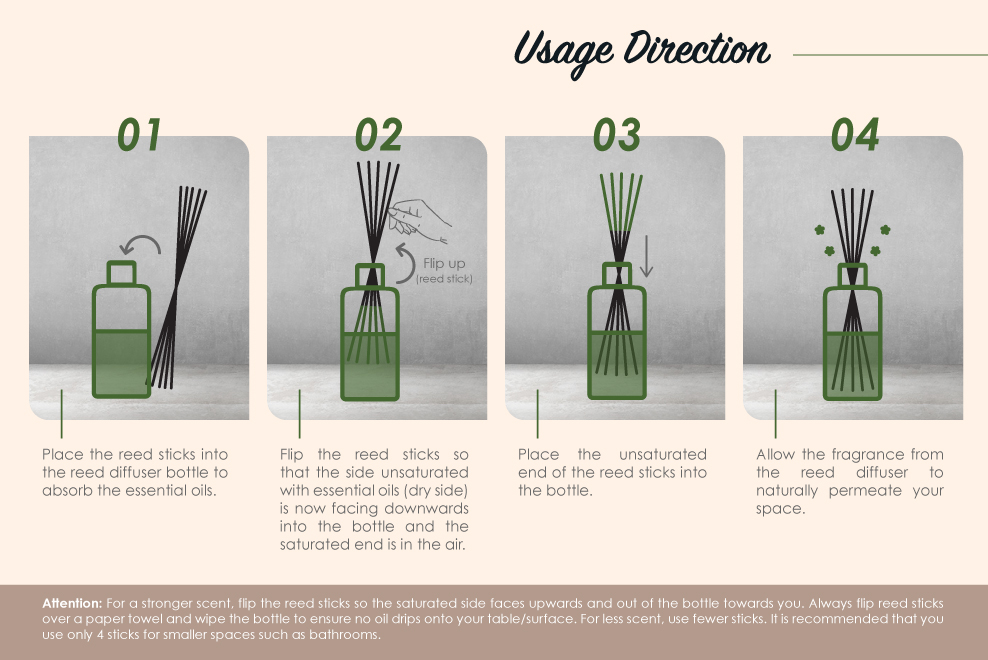 Related Products
Plant Origins Reed Diffuser - Finding Peace
(100ml)