Free Delivery + Lifetime Membership
Plant Origins
Plant Origins Sweet Almond Carrier Oil
(100ml)
Retail : RM 80
Member : RM 27 (Save 66%)


About This Product

Almonds aren't just good for your health when eaten. These popular nuts are also well-known for their lightweight oil which is often used as a carrier oil for other essential oils. Easily absorbed and mildly scented (it has a nutty aroma), Plant Origins Sweet Almond Carrier Oil is used to dilute essential oils prior to applying it topically as some essential oils can be too potent to be applied directly to skin. It is ideal for soothing dry and irritated skin, particularly as it is rich in vitamin E, a potent antioxidant that helps to repair damaged collagen layers. This carrier oil is also versatile enough to be used on its own as a moisturiser for your hair, nails and other skin concerns such as sunburn and scars.

Country of Origin: Malaysia

Usage Directions
For general topical use: Use Sweet Almond Carrier Oil to dilute your favourite essential oils. Applicable for use in massage or skin care routine.
For skin: Apply generously all over your body for smooth, naturally nourished skin.
For hair: Apply a small amount of Sweet Almond Carrier Oil onto your scalp or to the ends of your hair to protect from dryness and split ends.
For nails: Apply Sweet Almond Carrier Oil to your hands and gently rub into skin, nails and cuticles.

Cautions
Discontinue use if skin irritation occurs. For external use only, do not ingest. Keep out of reach of children. Avoid contact with eyes. Pregnant, nursing mothers and individuals who are on medication are advised to consult a health practitioner prior to usage.

Ingredients
Prunus amygdalus dulcis (100% Pure Sweet Almond) Oil.

Allergy Information
As with all nut-based carrier oils, use with caution on individuals with nut allergies. It is recommended that you do a patch test prior to full application.

Storage Instructions
Store in a cool, dry place. Keep away from heat and direct sunlight. Ensure bottle cap is closed tightly after each use.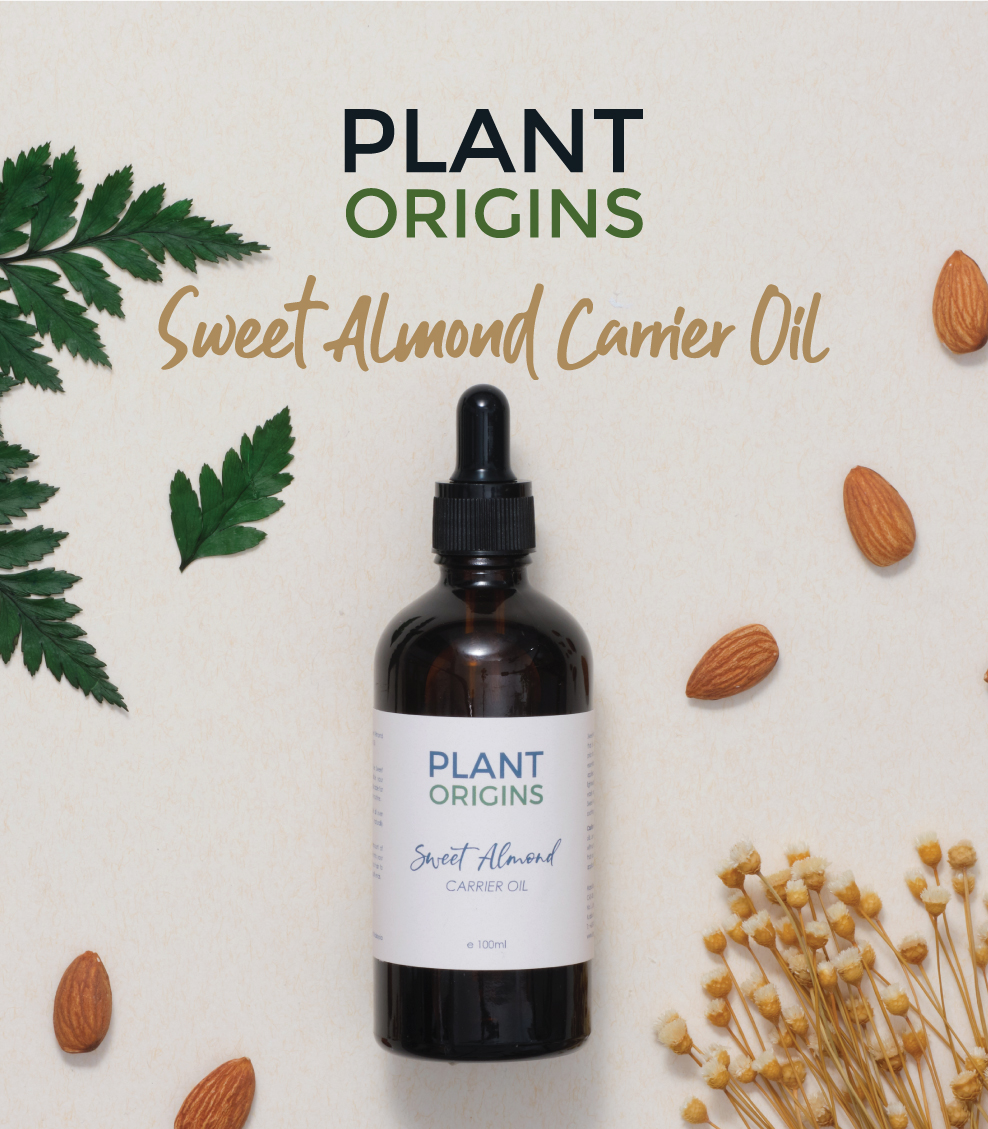 Related Products
Ratings & Reviews
Share your feedback by reviewing this product. Help other shopper decide whether it's right for them.
Nor***** N from Padang Serai, Kedah | Posted
A good choice for relaxing massage
Love it blend with other essential oils or use it alone
eli** a from kuching, Sarawak | Posted 1 month ago
fast delivery & secured packaging
item received in good condition & speedy delivery. Got PWP lemongrass essential oil & uplift charm roller. Thanks
NUR** I B A from KOTA BHARU, Kelantan | Posted 1 month ago
SOO* H L from BAYAN LEPAS, Penang | Posted 1 month ago
Good Quality
Always like the product quality and the packing
Won* B H from Shah Alam, Selangor | Posted 2 months ago
Light and moisturized
Perfect with essential oil, not too oily
Sit* Y from Kertih, Terengganu | Posted 2 months ago
Plant Origins Sweet Almond Carrier Oil
Well received in good packed. will use to dilute EO.
Nat***** O P from Bandar sunway , Selangor | Posted 4 months ago
Ok
Not much smell really. Would use it for my hair n body, not for mixing it with other oils
Eli** N from Jenjarom , Selangor | Posted 5 months ago
Soft skin
Mix essential oil
Jan******** A from BANTING, Selangor | Posted 5 months ago
Smooth and nourishing
This is good quality oil. I use it for a base and add on essential oils for a massage or healing. Repeating my order when this bottle in empty.
Win*** O X Y from Gelugor, Penang | Posted 6 months ago
Best buy
Love the smell of it. It is included in the set that I bought during promotion.
Kir***** G from Puchong , Selangor | Posted 7 months ago
Best Facial Oil ever!
Been using it for months now. It works wonders on my skin. Use it as a nighttime regimen after toning your face. It does not clog your pores!
Plant Origins Sweet Almond Carrier Oil
(100ml)