Plant Origins
Plant Origins Bulgarian Lavender Essential Oil
(10ml)
Selling : RM 45.9 (Save 61%)
(
log in
for member pricing )
100% Natural
About this product
A rich floral scent with mellow lavender notes and slight fruity nuances, Bulgarian lavender's sweet fragrance exceeds that of the American variety, making it a more premium variety of lavender. Known in the aromatherapy world as one of the most popular sleep remedies, lavender helps to soothe and relax you mentally and physically. Its gentle scent helps to lull your senses into a relaxing deep sleep so you can wake up refreshed the next day. In addition to being a natural relaxant, lavender also helps to relieve headaches, fatigue and stress. It is naturally anti-inflammatory, antibacterial and antifungal, thus making it suitable to aid in wound healing and other skin issues such as reducing acne and acne scars as well as controlling sebum production.
Country of Origin: Bulgaria
Health Benefits
1. The scent of lavender helps to temporarily decrease blood pressure, heart rate and skin temperature, all associated with a decrease in fight-or-flight response.
2. Relaxes and soothes the mind, thus helping to relieve symptoms of anxiety and stress. May help reduce fatigue and relax muscles.
3. May help relieve mild headaches.
4. Antioxidant-rich and easy to absorb into skin, thus helping to keep skin moisturised and nourished. May aid in healing wounds and scars due to its ability to stimulate blood flow and tissue regrowth.
5. Antibacterial and antifungal properties may help keep surrounding area of wounds clean.
6. Helps improve sleep quality.
7. May help repel insects.
8. Can be used as a toner to help remove dead skin cells and balance sebum levels.
Usage Directions
Inhalation Directions
: Add a few drops to diffuser or small pot of boiling water, inhale gently.
Topical Directions
: Dilute by adding a few drops into carrier oil or lotion before applying on skin.
Cautions
Do not use undiluted on skin. Discontinue use if skin irritation occurs.
Consult a physician before use if pregnant, nursing or under doctor's care.
Keep away from children.
Ingredients
Lavender (
Lavandula Angustifolia
) Oil.
Allergy Information
-None-
Storage Instructions
Store in a cool, dry place. Keep away from heat and direct sunlight.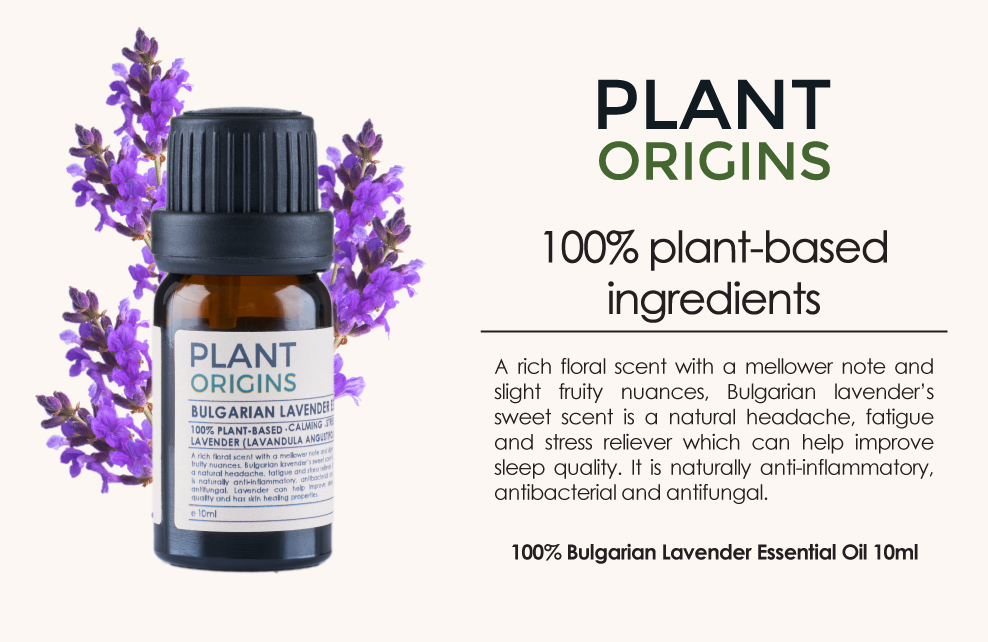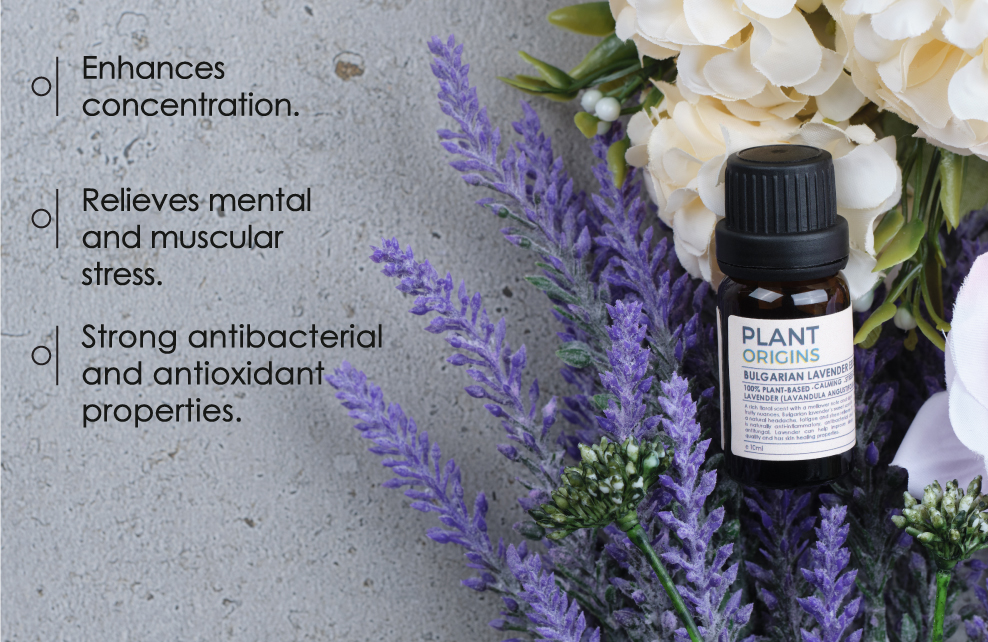 Related Products
Related Blogs
Ratings & Reviews
Share your feedback by reviewing this product. Help other shopper decide whether it's right for them.
Plant Origins Bulgarian Lavender Essential Oil
(10ml)