Free Chunky Peanut Butter *

About This Product

Roll your stress and restlessness away for a good night's sleep with our Plant Origins Good Night Sleep Essential Oil Roller. Formulated with a blend of calming lavender, grounding vetiver and balancing sweet orange essential oil, it helps to soothe your mind and body to gently lull you into a deep sleep. Sleep issues will be a thing of the past with just a few dabs of this essential oil blend.
Why should you opt for essential oil rollers instead of pure essential oils? Not only are essential oil rollers more convenient to carry around with you due to their small size and roll-on packaging, they are also pre-diluted and ready to use whenever you need a dose of aromatherapy healing. Bottled in UV protective amber glass to maintain a longer shelf life, Plant Origins Essential Oil Rollers are a safe and effective remedy for everyone to use. Our products are also cruelty-free and never tested on animals because we strive to uphold our policy of only producing ethical products that are kind to your skin and Mother Nature.

Country of Origin: Malaysia

Ingredients
Jojoba Oil, Lavandula angustifolia (Lavender) Oil, Vetiveria zizanioides (Vetiver) Oil, Citrus sinensis (Sweet Orange) Oil.


Buy 3 Get Free Gift
Related Products
Ratings & Reviews
Share your feedback by reviewing this product. Help other shopper decide whether it's right for them.
Moh* R M R from Batu Caves, Selangor | Posted 1 day ago
on time delivery
love the smells and on time delivery
May K from Ipoh, Perak | Posted 2 weeks ago
Smells good
Calming and relaxing
Nur S R from Bintulu, Sarawak | Posted 3 weeks ago
Nice smells
Love this soft lavender smells.
WON* M S from Seri Kembangan, Selangor | Posted 1 month ago
SMELL GOOD
this smell so relaxing
MOH* H B S from KUCHING, Sarawak | Posted 1 month ago
Pleasant.
If you ever drink lavender tea, that is how it smells like. Pleasant. But if you are looking for something that has a strong fragrance, then this is not for you.
Won* B H from Shah Alam, Selangor | Posted 2 months ago
Good night sleep
Nice and pleasant smell, calming and relaxing.
Dan** S from Selangor, Kuala Lumpur | Posted 3 months ago
Law J X from Batu Caves, Kuala Lumpur | Posted 3 months ago
TOH X Y from Port Dickson, Negeri Sembilan | Posted 3 months ago
Good review
Good packaging
Cha* S C from Ampang, Selangor | Posted 3 months ago
Superb!
Really fast delivery and very satisfied with service! I will become loyal customer from now on!
Che*** k from Kepong, Kuala Lumpur | Posted 3 months ago
sleep essential oil
too normal
Moh* H M H from JOHOR BAHRU, Johor | Posted 4 months ago
Superb
Received in a very good condition plus the packaging box is unexpected and amazing!!
Jo A from Kuala Lumpur, Kuala Lumpur | Posted 4 months ago
Nice smell
Nice soothing smell, very effective
Moh**** Y B M from Kuching, Sarawak | Posted 4 months ago
Can't Live Without It
It's subtle smell calming my soul wherever I go. Especially on a long distance traveling, it helps in reducing motion sickness, by applying it on few points on my head and neck.
Nur** J A from KUALA LUMPUR, Kuala Lumpur | Posted 5 months ago
Suh**** n a from Kuala Lumpur, Kuala Lumpur | Posted 5 months ago
Nice smell
Calming and relax
TON* W K from KEPONG, Kuala Lumpur | Posted 6 months ago
Received item in good condition
Good
Azm***** a from Petaling jaya, Selangor | Posted 6 months ago
Loh W L from Kepong, Kuala Lumpur | Posted 7 months ago
Good
Really helpful and improve my sleeping quality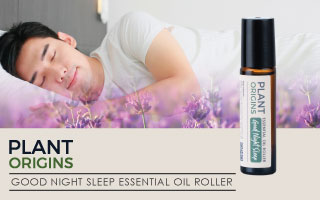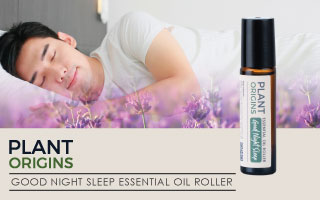 Plant Origins Good Night Sleep Essential Oil Roller
(10ml)