Plant Origins
Plant Origins The Essentials Bundle (with wooden box & guide card)
(4 units)
Selling : RM 129.9 (Save 50%)
(
log in
for member pricing )
100% Natural
About this product
Energy boost? Sleep aid? You can have it all in this Plant Origins The Essentials Bundle! It includes an essential oil wooden storage box, aromatherapy guide card, Plant Origins Lavender, Lemon and Peppermint essential oil.
A complete combination of all our popular essential oils, this essentials bundle has everything you need to start your own aromatherapy collection. Each essential oil is uniquely scented and has amazing health benefits that range from uplifting your mood to boosting your immunity and helping you sleep. Their powerful anti-inflammatory and antibacterial properties also make them highly effective natural remedies for a number of afflictions.
Benefits
Lavender:
Lavender essential oil with its floral lavender scent is calming and works well as a sedative to help relax the mind, relieve stress and promote sleep among many other benefits.
Peppermint:
With its fresh and minty aroma, this peppermint essential oil is soothing and revitalizing. It's a great option to relieve feelings of fatigue and pain. It may also help improve mental clarity and help the body to perform better.
Lemon:
Zesty and fresh, the scent of lemon essential oil is ideal for improving cognitive function and concentration.
Directions
Inhalation Directions
:Add a few drops to diffuser or small pot of boiling water, inhale gently.
Topical Directions
: Dilute by adding a few drops into carrier oil or lotion before applying on skin.
Cautions
Do not use undiluted on skin. Discontinue use if skin irritation occurs.
Consult a physician before use if pregnant, nursing or under doctor's care.
Keep away from children.
Storage
Store in a cool, dry place. Keep away from heat and direct sunlight.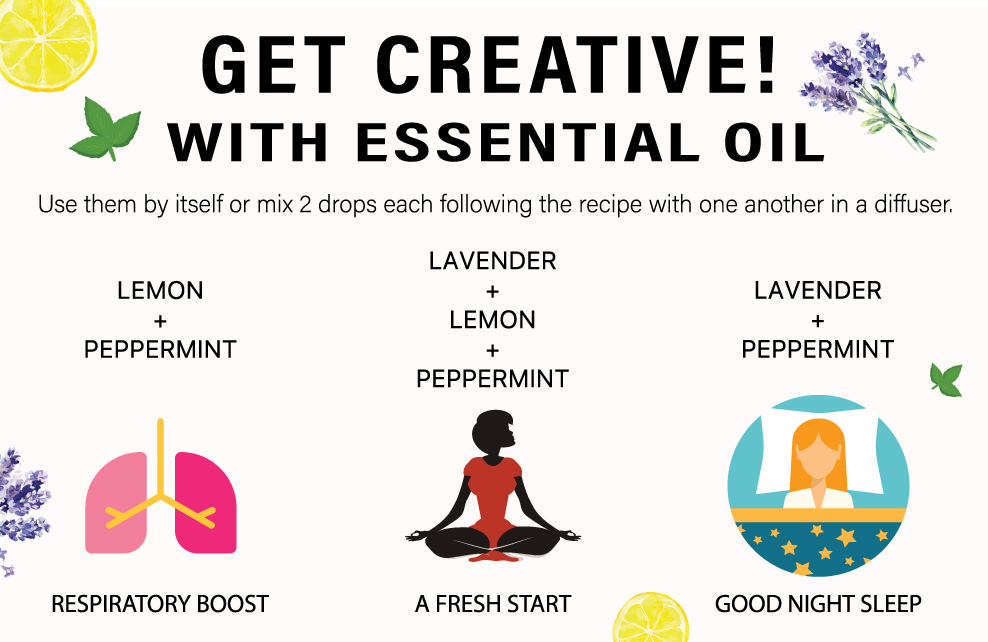 Related Products
Ratings & Reviews
Share your feedback by reviewing this product. Help other shopper decide whether it's right for them.
Plant Origins The Essentials Bundle (with wooden box & guide card)
(4 units)