Free Own Your Power Tumbler*

About This Product

A visit to Ipoh is never complete without a bowlful of delicate tau fu fah. The creamy mouthfeel, light flavours and warm, spicy hint of ginger in every spoonful of this traditional dessert leave your taste buds begging for more, which is why we've come up with a way to enjoy it whenever and wherever you are! Introducing our Ipoh Ginger Tau Fu Fah Drink, a delicious taste of Ipoh now recreated in drink form. Every mouthful tastes just like the actual dessert, from the creaminess of the soy to the spicy, peppery hint of ginger! Our recipe uses all-natural ingredients, no preservatives and absolutely no artificial flavourings - just the goodness of organic soy milk made from skinless soybeans, low glycaemic index sugar and locally-sourced Bentong ginger.

Country of Origin: Malaysia

Ingredients
Organic Soy Milk Powder, 100% Raw Sugar Cane, Polydextrose, Bentong Ginger Powder.

Allergy Information
Contains soy products.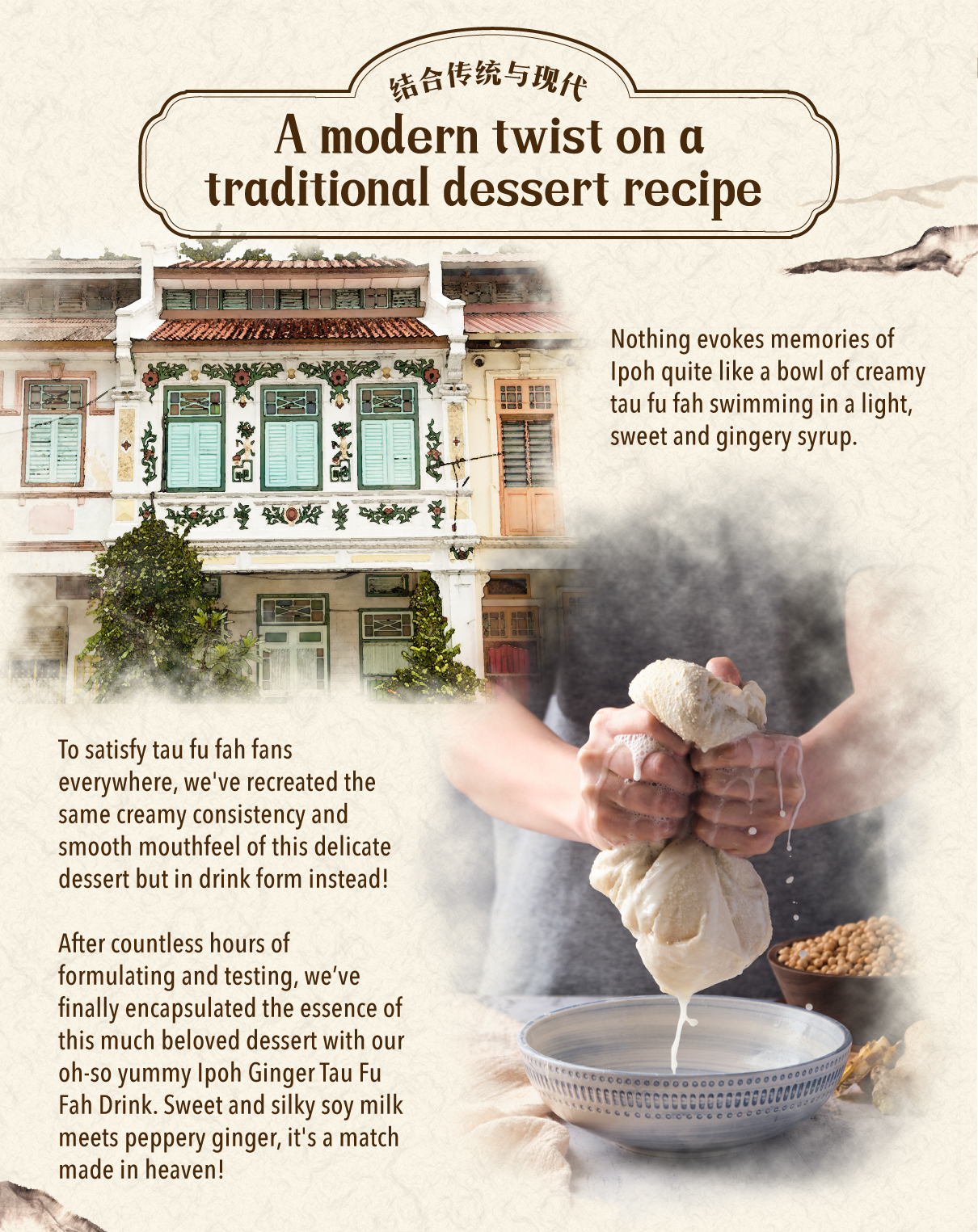 Buy 4 Get Free Gift
Related Products
Ratings & Reviews
Share your feedback by reviewing this product. Help other shopper decide whether it's right for them.
Lee C H from Kuala Lumpur, Kuala Lumpur | Posted 3 weeks ago
Soy drink
Ginger taste too strong
Koh L L from Batu Pahat, Johor | Posted 2 months ago
Lacks instructions
I'd appreciate a brief set of instructions on how to use your powder beverage products. Example: how many tablespoons of the powder to how ratio of liquid? So far, I've to do a guessing game, sometimes turn out ok but sometimes not.
Ipoh Ginger Tau Fu Fah Drink
(500g)