Free Pistachio Almond Trail Mix with any purchase*

About This Product

Start your day on a sweet note with a rich, frothy cup of our Creamy Caramel Latte With Organic Soy Milk! Perfect for latte lovers who want to enjoy fuss-free cafe-style lattes in the comfort of their own home or office, it delivers a shot of delicious vegan-friendly caffeine that contains absolutely no dairy, artificial flavouring, additives or preservatives. Our latte also uses two types of Arabica beans instead of just one. This gives it a fuller body and a richer chocolatey hazelnut flavour that's, dare we say it - even better than your favourite cafe's caramel latte. Try it for yourself today and thank us later!

Country of Origin: Malaysia

Ingredients
Organic Soy Powder, Sugar, Ground Coffee Powder Blend, Caramelised Brown Sugar, Soy Lecithin, Vanilla Bean Powder, Salt.

Allergy Information
Contains soy products.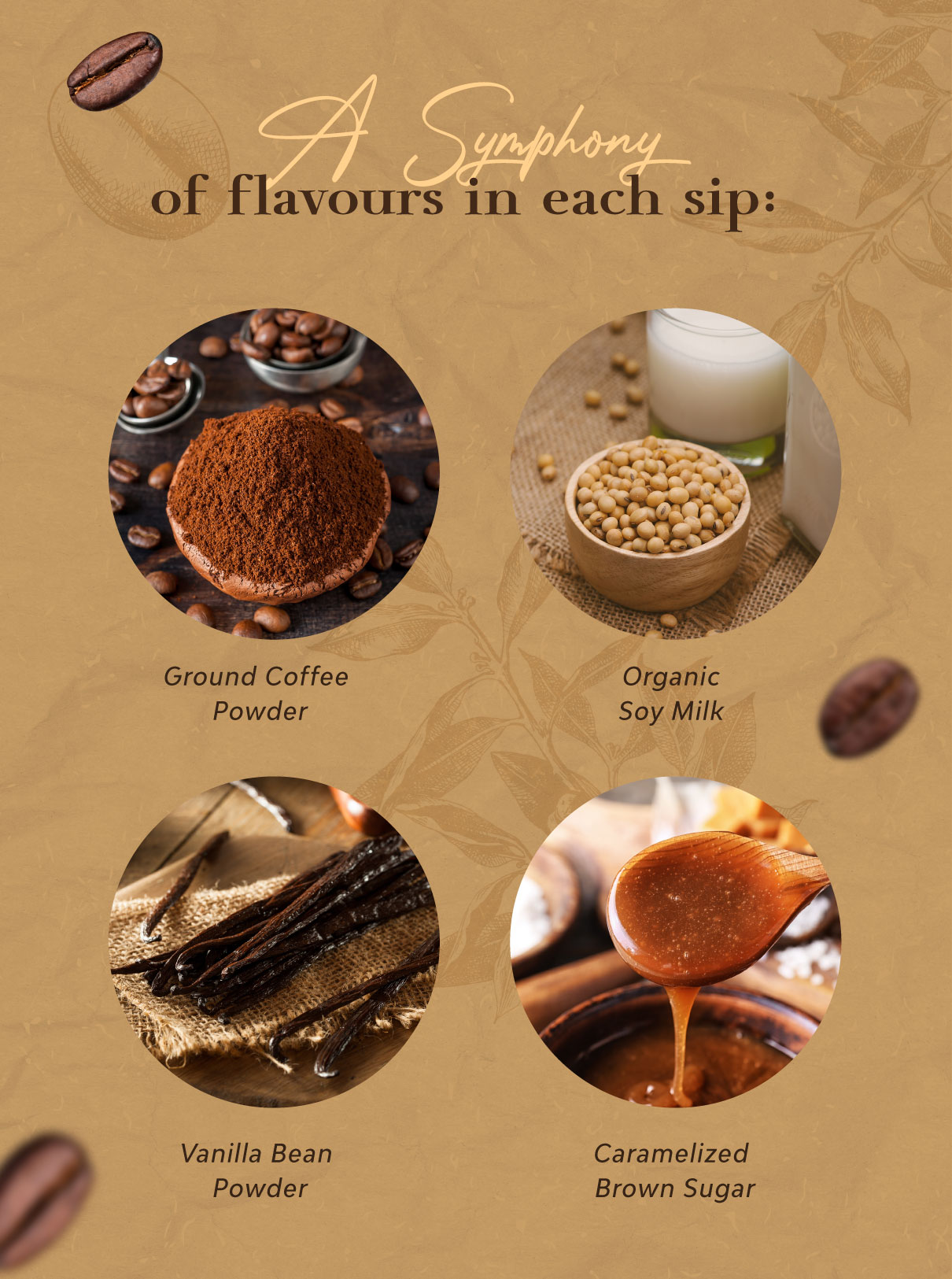 Buy 2 Get Free Gift
Related Products
Ratings & Reviews
Share your feedback by reviewing this product. Help other shopper decide whether it's right for them.
Lau*** G from Telok Panglima Garang, Selangor | Posted 2 weeks ago
Very rich but lacks coffee
Overall its super rich and creamy but does not really taste like a caramel latte. I think the soy milk is rather overpowering and I can barely taste any coffee. Its more like soy milk + a hint of caramel, which was kinda weird in my opinion. So if you are looking for a stronger coffee taste this isn't it :)
Ale* M from Seri Kembangan, Selangor | Posted 3 weeks ago
This coffee mix
Very good flavour
Che*** M P from Kuala Lumpur , Kuala Lumpur | Posted 3 weeks ago
Not bad
Caramel less sweet. Nice.
Tan K Y from Gelugor, Penang | Posted 1 month ago
Tastes Like Caramel Popcorn!
This caramel latte tastes just like a caramel popcorn drink - so caramelly-aromatic! It's not that sweet, which is a pleasant surprise as conventional caramel food/drinks tend to be overly-sweet. This is just nice, guilt-free, and a whole lot healthier! All in a convenient ready-to-drink sachet!
SAS** K S from KLUANG, Johor | Posted 1 month ago
Good & Quality product
Really super taste
YIP L F from TRONOH, Perak | Posted 2 months ago
FAST DELIVERY AND IN GOOD PACKAGES
GOOD
Tan A F from Kuching, Sarawak | Posted 2 months ago
Kawan meli madah nyamai
Nyamai ko kawan ku
YUN* S K from Kuala Lumpur, Kuala Lumpur | Posted 3 months ago
Smells good but tasted so so only
Not to my liking.
KAR**** A from KUALA LUMPUR, Kuala Lumpur | Posted 3 months ago
No really like it the taste
So so
Suz**** B M from Kajang, Selangor | Posted 4 months ago
Creamy Caramel Latte With Organic Soy Milk
(30g x 10 sachets)