Free Good Night Sleep Room Spray Card*

About This Product

If you thought that the pistachio's creamy texture and rich taste seemed familiar, it's because this small green kernel is a relative of the popular cashew nut. Now available in a fruity, berrylicious mix alongside antioxidant-rich blueberries, blackcurrants and cranberries, you can get all the creamy deliciousness without the hassle of having to crack pistachio shells one by one. Now available in a larger pack for your snacking pleasure.

Country of Origin: Malaysia

Ingredients
Cranberry, Blackcurrant, Pistachio, Almond, Melon Seed, Pumpkin Seed, Blueberry.

Allergy Information
Nut products.

Storage Instructions
Store in an airtight container or in its original resealable bag to maintain freshness. Keep in a cool, dry place. Avoid exposure to sunlight or excessive heat.


Ratings & Reviews
Share your feedback by reviewing this product. Help other shopper decide whether it's right for them.
Jen** Y from Ampang, Selangor | Posted 3 weeks ago
Rab***** A B O from Pasir Gudang, Johor | Posted 1 month ago
Kudapan Sihat
Mengenyangkan dan sihat
Jam*** R M from Petaling Jaya, Selangor | Posted 2 months ago
Tan L K from Puchong, Selangor | Posted 3 months ago
Repeatedly order this..
Tasty, nuts are fresh..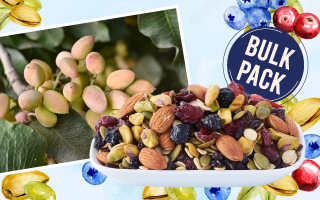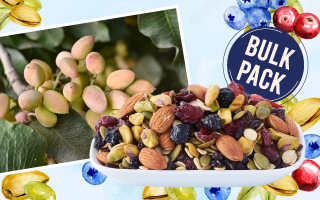 Pistachio Berries Trail Mix (Bulk Pack)
(500g)