Signature Market
Roasted Natural Black Beans (Bulk Pack)
(400g)
Selling : RM 18 (Save 41%)
(
log in
for member pricing )
Pork Free
about this snack
Black Beans are small but the are full in protein. It is also one of the good source of plant proteins, minerals and phytonutrients. Phytonutrients in black beans are good antioxidants and it might help to lower risks of cancer, heart and kidney diseases. High iron in black beans can help in increasing your hemoglobin levels.
Black beans is also a perfect go-to for protein to those who are under a vegetarian diet. Besides, it is also a good choice for those who workout as black beans provide a boost of energy and protein.
Here are just a few other benefits that come with eating black beans:
Less constipation and bloating: The fiber helps you stay regular.
Lower "bad" cholesterol levels: Eating adequate fiber (at least 25 to 35 grams per day) can help decrease LDL cholesterol levels and reduce your risk of heart disease.
Protection for your bones: The magnesium in black beans plays a role in enzymatic reactions in the body including metabolism, and it's key for bone health as well.
Healthier blood pressure levels: The potassium in black beans can help improve your blood pressure numbers.
Ingredients
Roasted Black Bean, Salt.
Healthy options to consume~
1. Up your yogurt game.
Try picking up a container of plain, low-fat Greek yogurt and adding in a few toppings of your own to give it some flavor — fresh fruit, powdered chocolate, and roasted natural black beans.
2. Jazz up your oatmeal.
Contrary to common belief, oatmeal doesn't have to be the most boring breakfast,ever. Try adding roasted natural black beans, dried fruits, chia seeds into your bowl of oatmeal. Let everything sit in the refrigerator overnight so that come morning, voila! Breakfast is ready, and it's so, so good.
3. Substitute unhealthy snacks with roasted natural black bean.
Try to eliminate unhealthy potato chips and start grabbing roasted natural black bean.
Storage Tips:
1. Avoid exposure to direct sunlight.
2. Store in cool and dry place.
3. Protect from insects and pests.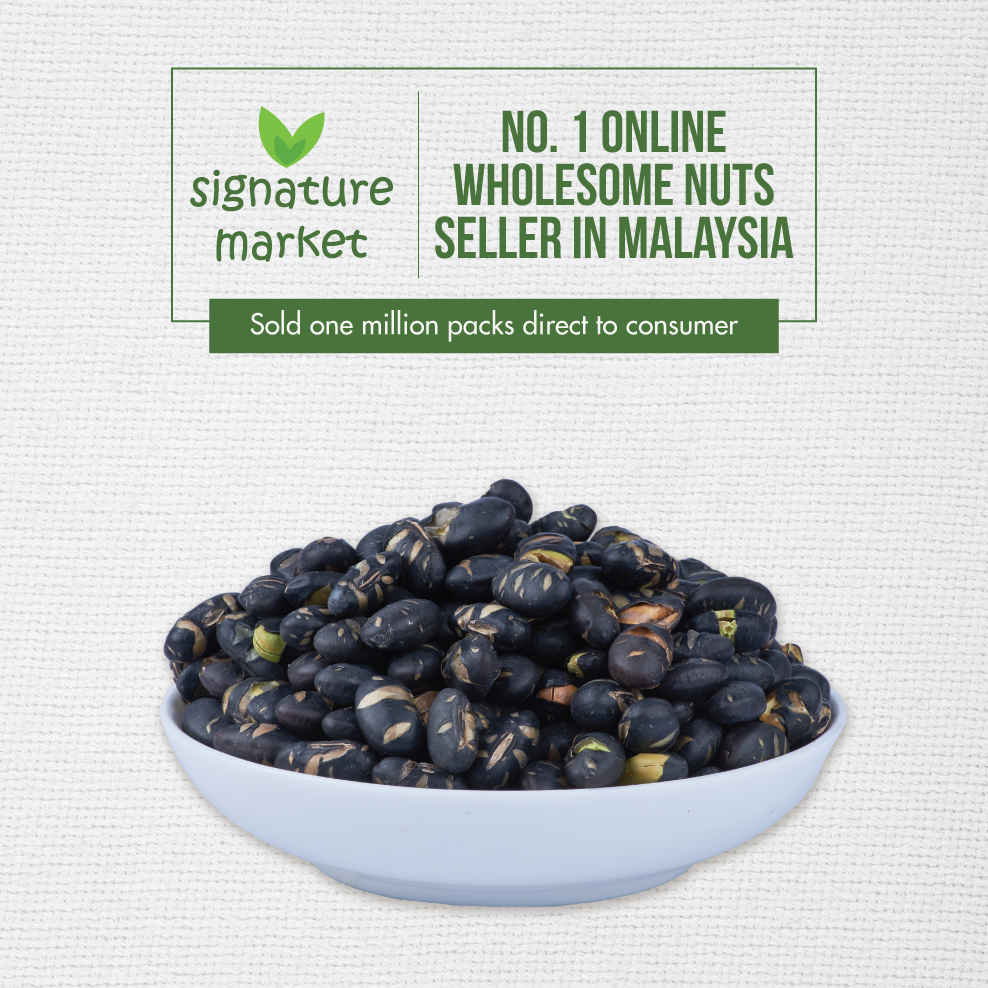 Related Products
Special
Signature Market
Food
Babies & Kids
Health & Beauty
Home