Free Delivery + Lifetime Membership

About This Product

We get it, periods are never fun. But what's worse is when your body gets drained of its store of iron, possibly resulting in lethargy, shortness of breath, headaches, dizziness, heart palpitations and even anaemia. When you lose blood every month, your body's store of iron is depleted along with it making it a necessity to replenish it by increasing your iron intake. If traditional herbal soups are not your thing, why not opt for a delicious and easy way to beat iron deficiency? Made with a luxurious blend of dried wolfberries, red dates, walnuts, cashew nuts, pumpkin seeds, peanuts and roasted black beans, our Blood Revitalisers Trail Mix will help you restore your body's supply of iron in no time at all. It's as easy as snacking on a handful of this trail mix per day or topping your favourite foods with it! Rich in iron and plenty of other vitamins and minerals to keep your skin glowing and heart healthy, our Blood Revitalisers Trail Mix is suitable for individuals looking to revitalise their blood post-menstruation or simply to supplement their daily iron intake.

Country of Origin: Malaysia

Ingredients
Dried Wolfberry (Goji), Red Date, Walnut, Cashew Nut, Pumpkin Seed, Peanut, Roasted Black Bean.

Allergy Information
Contains nut products.

Storage Instructions
Store in an airtight container or in its original resealable bag to maintain freshness. Keep in a cool, dry place. Avoid exposure to sunlight or excessive heat.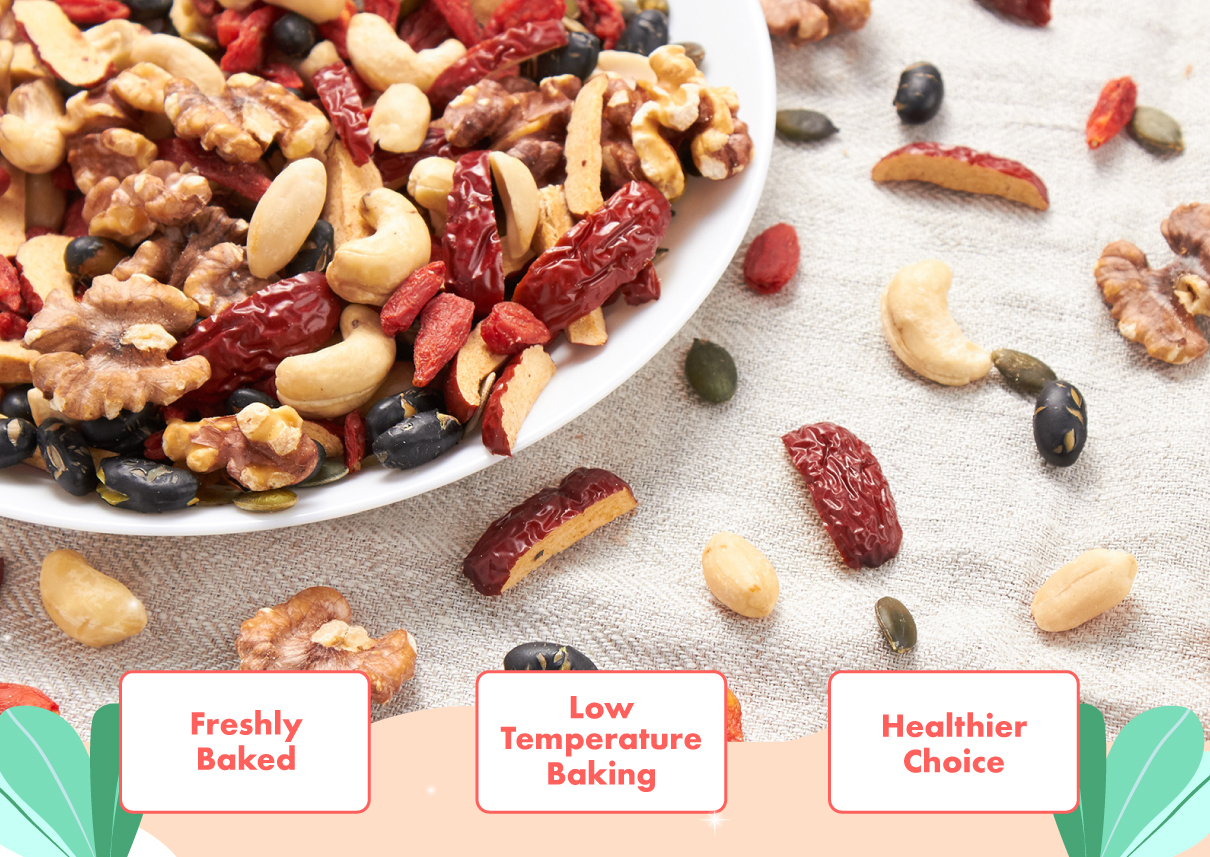 Buy 5 Get Free Gift + Rebate
Related Products
Ratings & Reviews
Share your feedback by reviewing this product. Help other shopper decide whether it's right for them.
Zoe W from Melaka, Melaka | Posted 1 week ago
Fast delivery and good packing
Fast delivery and good packing
TAN Z W from Bayan Lepas, Penang | Posted 1 week ago
Not too bad overall
Lack of red dates. Should have added more red dates.
Ali*** T from Bayan Baru, Penang | Posted 2 weeks ago
Product & Price
Thank. Nice & quality product
Roh*** A R from Subang Jaya , Selangor | Posted 3 weeks ago
Blood Revitalizers Trail mix
Fast Delivery and good quality product
Muh***** s b k from Kuala Terengganu, Terengganu | Posted 1 month ago
Blood revitalizer nuts
All the nuts is delicious , crunchy and fresh..the packaging is really good..delivery so fast..the price is reasonable..i really like it..
JUN***** J from Klang, Selangor | Posted 1 month ago
signature market brand
nice and tasty
Ali*** T from Bayan Baru, Penang | Posted 1 month ago
Win*** Y from Petaling Jaya, Selangor | Posted 2 months ago
Yet to try but it should be of good quality .
Have confidence with Signature Market quality deliverance from a handful of repeat purchases conducted.
Blood Revitalizers Trail Mix
(200g)