Signature Market
Bean Power Mix (High Plant Protein)
(180g)
Selling : RM 10 (Save 33%)
(
log in
for member pricing )
Natural
About This Product
Harness the power of the humble bean with our Bean Power Mix! Contrary to popular belief, beans aren't merely fart inducers as we've been lead to believe. In fact, beans are a healthy source of fibre, plant-based protein and B vitamins. Since most of them are fibre and protein-rich, they're a great alternative to high-carb fillers such as rice and bread. Their high protein content also makes them amazing post-workout snacks since protein is necessary to help the muscles recover faster. Our Bean Power Mix contains up to 7g of protein per serving and is also nut-free, making it suitable for individuals with nut allergies.
Country of Origin: Malaysia
What Does This Taste Like?
Crunchy and slightly savoury.
Health Benefits
1. Beans are excellent sources of protein, complex carbs, fibre, iron, folate, phosphorus, potassium, manganese and several other beneficial plant compounds.
2. Contains all nine essential amino acids.
3. Healthy source of plant-based protein that's suitable for vegans and vegetarians.
4. Helps lower cholesterol and blood pressure levels.
5. Promotes satiety due to its fibre-rich content and may aid with weight control. A combination of protein and fibre also work well to slow digestion which helps to promote a feeling of fullness and thus curb appetite. It also aids in reducing blood sugar and helps prevent insulin resistance.
6. The fibre content helps to prevent constipation.
7. May help reduce belly fat.
8. Black beans are more effective at reducing the rise in post-meal blood sugar when compared to other high-carb foods such as rice and bread.
9. Edamame are antioxidant-rich and may help reduce the risk of certain cancers, decrease the risk for heart diseases and reduce menopausal bone density loss.
10. Edamame may help in reducing PMS symptoms of breast tenderness, headaches and cramps due to its phytoestrogens contained in soy.
11. Edamame is also a complete protein because it contains all nine essential amino acids.
Usage Directions
Open packet and consume.
How To Consume
1. Open packet and consume directly.
2. Sprinkle over salads or even main meals for a delightful crunch and boost of nutrients.
3. Add to a bowl of milk/yoghurt and fresh fruit for a healthy snack.
4. Top your acai bowl or dessert with a handful of Bean Power Mix for a more filling snack.
Ingredients
Black Bean, Wasabi Green Pea, Broad Bean (Fava Bean), Edamame, Chickpea.
Allergy Information
Contains broad beans (fava beans) that may trigger symptoms in people with G6PD deficiency.
Storage Instructions
Store in an airtight container or in its original resealable bag to maintain freshness. Keep in a cool, dry place. Avoid exposure to sunlight or excessive heat.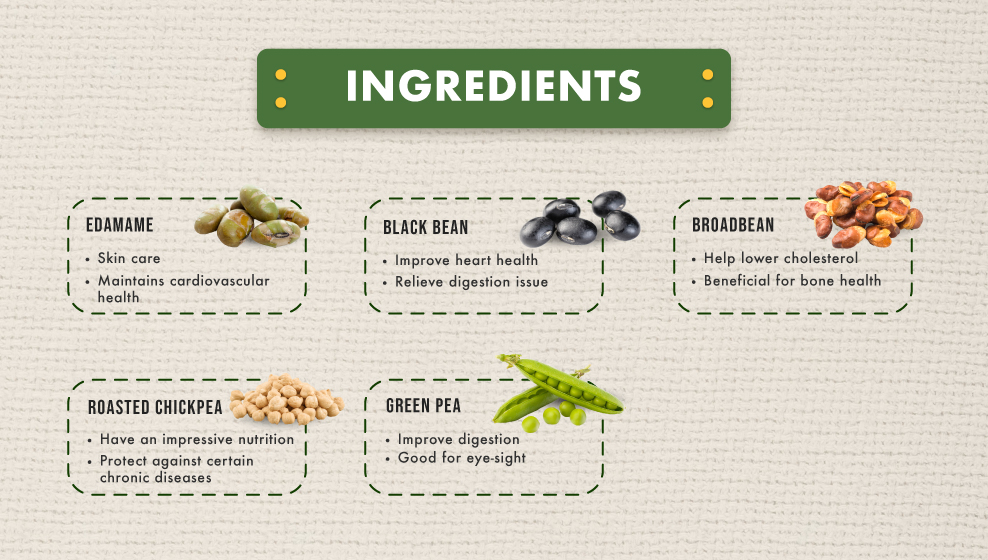 Related Products
Special
Signature Market
Food
Babies & Kids
Health & Beauty
Home