Signature Market
Joyful Deepavali Mix (Expired on: April 2020)
(150g)
Selling : RM 10 (Save 33%)
(
log in
for member pricing )
Natural
About This Product
Deepavali wouldn't be Deepavali without the usual sweetmeats and snacks. From murukku to barfi and ladoos, the festival of lights is more than just a religious celebration - it's also a time when family and friends come together to celebrate the victory of light over darkness, enjoy each other's company and partake in family feasts. But with the growing awareness of health concerns over sugar-laden mithais, many are turning to healthier options to put before visiting relatives and friends. For a more nutritious option this Deepavali, try our Joyful Deepavali Mix instead. Made with several Indian cuisine favourites such as pakoda, curry soya beans, peanuts and chickpeas with an assortment of other nuts and dried fruits (raisins), it's a healthy and delicious treat to swap into your spread of goodies.
Country of Origin: Malaysia
What Does This Taste Like?
Crunchy with a great balance of spicy (mild), savoury and sweet.
Health Benefits
1. Soya isoflavone from soy bean helps to alleviate menopause symptoms without any side effects.
2. Nuts contain heart-healthy unsaturated fatty acids that may help to lower bad cholesterol levels and improve insulin sensitivity (oleic acid found in peanuts).
3. Nuts are excellent sources of fibre which is essential for promoting the growth of good gut bacteria and improving cholesterol levels. The high fibre content also helps to promote satiety, thus keeping you fuller for longer and preventing overeating.
4. Nuts are rich in arginine, an amino acid needed to make nitric oxide which helps relax constricted blood vessels and eases blood flow. This helps to improve blood pressure levels, thus reducing the risk of cardiovascular diseases and strokes.
5. Peanuts may help to lower cholesterol and thus help reduce the risk of gallstones.
6. Rich in vitamin B3, E, and K as well as phosphorous, copper, iron, selenium, zinc, niacin, magnesium and manganese.
7. Cashews are a great vegetarian source of copper.
8. Helps the body form and use red blood cells due to the iron and copper content. May help individuals who are anaemic.
Usage Directions
Open packet and consume.
How To Consume
1. Open packet and consume directly.
2. Sprinkle over salads or even main meals for a delightful crunch and boost of nutrients.
Ingredients
Pakoda, Curry Soya Bean, Peanut, Pecan, Cashew, Chickpea, Yellow Raisin, Black Raisin
Allergy Information
Contains nut products.
Storage Instructions
Store in an airtight container or in its original resealable bag to maintain freshness. Keep in a cool, dry place. Avoid exposure to sunlight or excessive heat.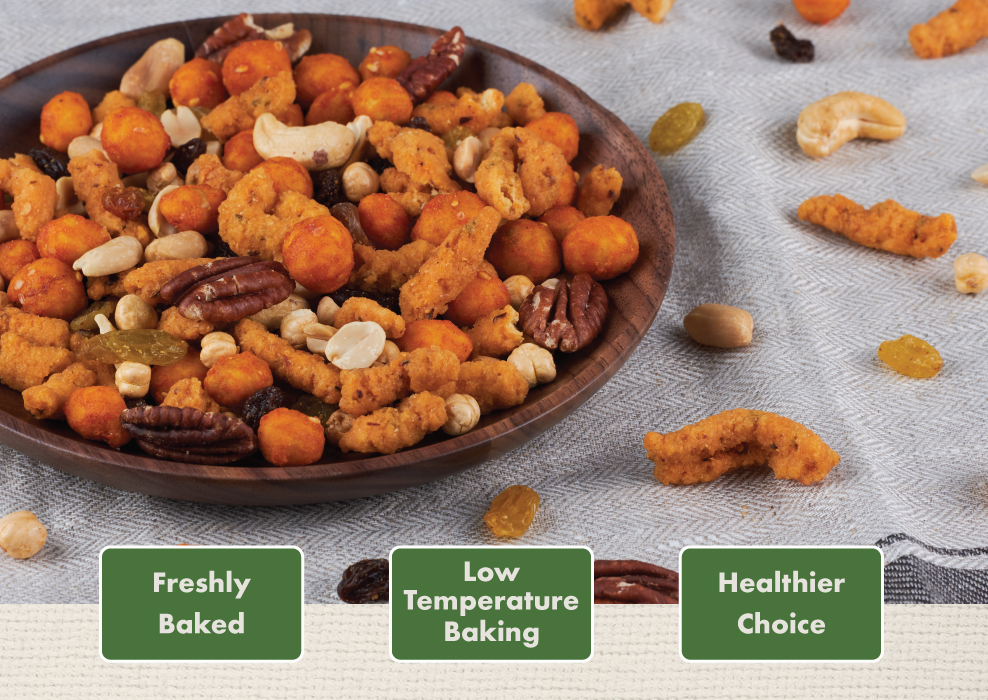 Related Products
Joyful Deepavali Mix (Expired on: April 2020)
(150g)