Signature Market
PMS Superhero Mix
(140g)
Selling : RM 18 (Save 10%)
(
log in
for member pricing )
Natural
About This Product
You're feeling cranky, bloated and out of sorts with your body. Is it stress? Bad eating habits? Gas? None of the above, it's just that dreaded time of the month when your PMS symptoms come out in full force. PMS or Premenstrual Syndrome is a condition that affects most women and girls of menstruating age. Often identified by mood swings, bloating, tender breasts, food cravings, fatigue, irritability and depression, it's a real issue that many ladies face on a monthly basis. While you may be tempted to curl up in bed with a stash of chocolate and chips, it would not be the wisest choice. While chips and chocolate may soothe your mood, they won't make your body feel better. Opt for a handful of our PMS Superhero Mix instead. With a combination of essential vitamins and minerals needed to alleviate PMS symptoms, it's the perfect snack for that time of the month and every day too.
Country of Origin: Malaysia
What Does This Taste Like?
Nutty, mildly savoury and sweet (natural sweetness from red dates and yellow raisins).
Health Benefits
1. Contains magnesium which helps to ease PMS symptoms such as mood swings, insomnia, water retention and breast tenderness.
2. Contains iron which is essential in the synthesis of serotonin which helps to improve one's mood.
3. Edamame may help in reducing PMS symptoms of breast tenderness, headaches and cramps due to its phytoestrogens contained in soy.
4. Contains vitamin B6 which may help alleviate some symptoms of PMS by helping the liver remove excess oestrogen. It also aids in reducing depression and irritability.
Usage Directions
Open packet and consume.
How To Consume
1. Open packet and consume directly.
2. Add to a bowl of milk/yoghurt and fresh fruit for a healthy snack.
3. Top your acai bowl or dessert with a handful of PMS Superhero Mix for a more filling snack.
4. Top a salad with a handful of PMS Superhero Mix for a nutritious meal.
Ingredients
Almond, Cashew Nut, Edamame, Goji Berry, Pumpkin Seed, Yellow Raisin, Red Date.
Allergy Information
Contains nut products (cashew nuts).
Storage Instructions
Store in an airtight container or in its original resealable bag to maintain freshness. Keep in a cool, dry place. Avoid exposure to sunlight or excessive heat.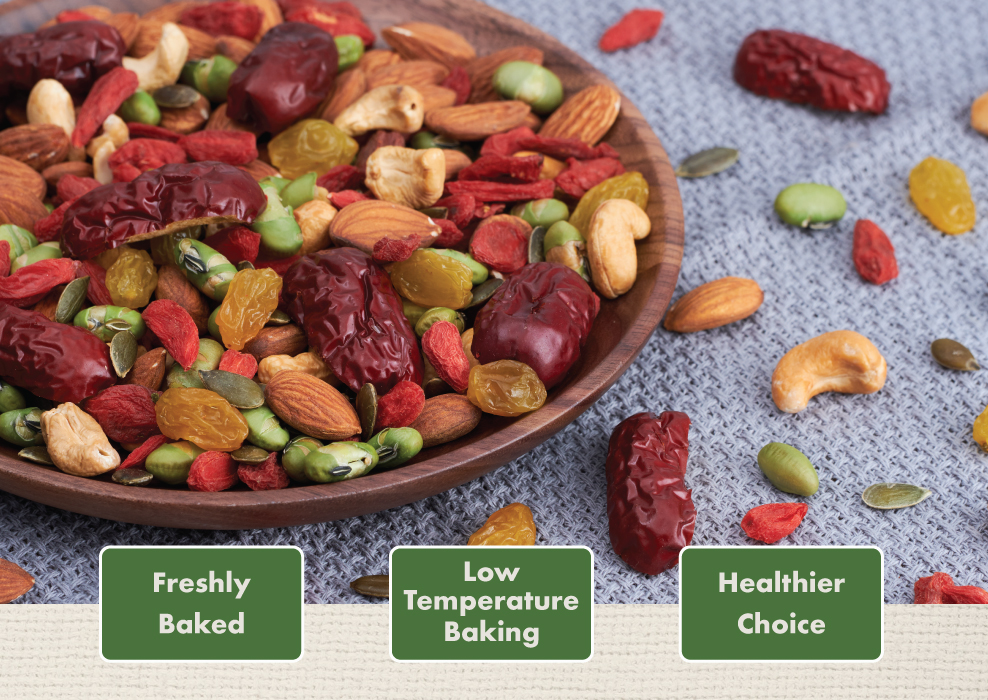 Related Products
Special
Signature Market
Food
Babies & Kids
Health & Beauty
Home