Signature Market
Macadamia Trail Mix (Bulk Pack) x 2 + Thai Dried Pineapple Ring (120g)
3 Items
Selling : RM 120 (Save 35%)
(
log in
for member pricing )
Pork Free
about this snack
Shout out to Macadamia lovers out there! This trail mix consists of many premium ingredients such as macadamia nuts, almonds and cashew nuts. It is high in protein and healthy fat that can satisfy your hunger between meals and improves your diet results. Not only is it an easy on-the-go meal, it's also a great addition to your daily meals for added texture and flavour. We slow-baked at low temperatures to preserve its nutrients. Plus, we dry-roasted instead of fried for a healthier, reduced oil recipe. Eat a handful of nuts, get a bucketful of benefits!
Ingredients
Cashew Nut, Walnut, Macadamia Nut, Almond, Pumpkin Seed, Sunflower Seed.
Allergy Information
Contains tree nut products
Pork Free
about this snack
This snack is a premium snacks collection where only premium ingredients are used. This snack is low carb, high protein snacks that satisfy your hunger between meals and improves your diet results. This premium snack is the perfect and healthier choice to be shared with your family and friends.
No added sugar. Gluten, dairy and preservative free.
what this snack taste like?
All of the different type of nuts are roasted without any seasoning. You can taste the natural taste of each different nuts.
Ingredients:
Walnut, Almond, Cashew Nut
Healthy options to consume~
1. Up your yogurt game.
Try picking up a container of plain, low-fat Greek yogurt and adding in a few toppings of your own to give it some flavor — fresh fruit, powdered chocolate, and MACADAMIA TRAIL MIX.
2. Jazz up your oatmeal.
Contrary to common belief, oatmeal doesn't have to be the most boring breakfast,ever. Try adding MACADAMIA TRAIL MIX, dried fruits, chia seeds into your bowl of oatmeal. Let everything sit in the refrigerator overnight so that come morning, voila! Breakfast is ready, and it's so, so good.
3. Substitute unhealthy snacks with MACADAMIA TRAIL MIX.
Try to eliminate unhealthy potato chips and start grabbing MACADAMIA TRAIL MIX.
Storage Tips:
1. Avoid exposure to strong smells, as nuts can absorb odors of other materials if exposed for prolonged periods.
2. Avoid exposure to direct sunlight.
3. Store in cool and dry place.
4. Protect from insects and pests.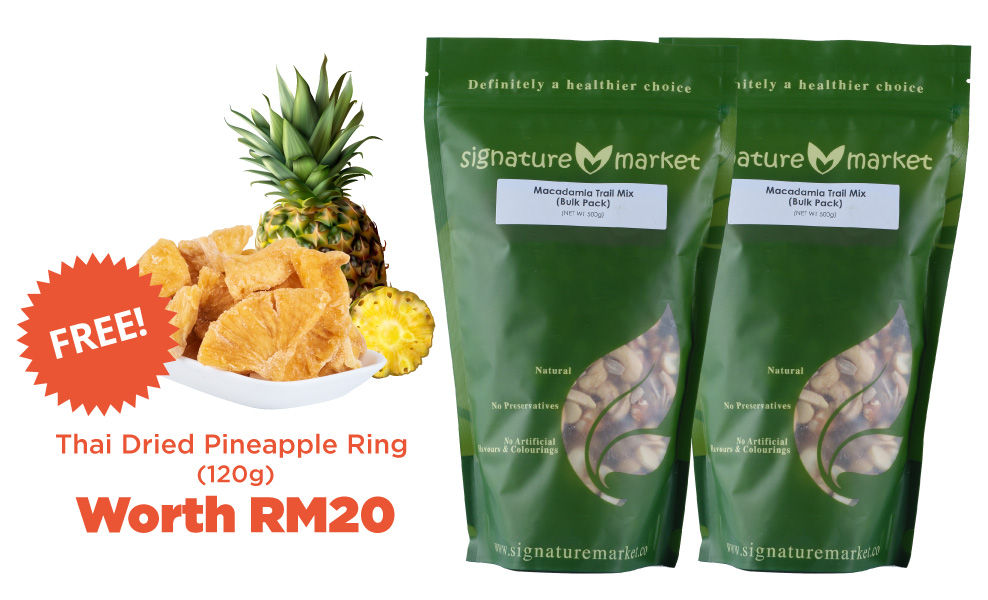 Related Products
Ratings & Reviews
Share your feedback by reviewing this product. Help other shopper decide whether it's right for them.
Macadamia Trail Mix (Bulk Pack) x 2 + Thai Dried Pineapple Ring (120g)
3 Items