Plant Origins
Plant Origins Aromatherapy Anion Diffuser with Bluetooth
(1000ml)
Selling : RM 250 (Save 28%)
(
log in
for member pricing )

About This Product

With a sleek wood-patterned exterior that won't distract from your existing decor, the all-new Plant Origins Aromatherapy Anion Diffuser with Bluetooth is an elegant addition to your space that has a 2-in-1 function of being both a diffuser and Bluetooth speaker! Play your favourite tunes as you sit back and relax or switch on the light function for a soothing night light with adjustable brightness and colours. For an even more relaxing experience, add several drops of your favourite essential oil into the water tank, sit back and enjoy the divine fragrance as it envelops you in its scent.
With a water tank capacity of 1000ml, the Plant Origins Bluetooth Aromatherapy Diffuser can now produce mist for more than to 20 hours on a full tank of water, so you can wake up with radiant, hydrated skin. The latest addition to our diffuser range also utilises air ioniser technology that emits negative ions (anions) to neutralise dust, germs and other dirty air particles in the air by bonding with them, resulting in heavier dirt particles that will fall to the ground and be easier to clean.

Country of Origin: China

Caution
Please ensure the correct voltage is used for the machine.
Do not dismantle or use the machine in a damp area.
Use only clean, filtered water in the humidifier. Unfiltered tap water can contain higher levels of minerals/particles that can build up in the machine and cause it to wear down faster. The humidifier may also push these minerals into the air and they may settle down as dust.
Change the water in the humidifier regularly. Dry the water in the water tank if not used for a long period of time.
It is recommended to clean any deposits in the water tank once a week.
If there is an abnormal sound or the amount of mist released becomes significantly reduced, turn off the switch and refill the water tank.
Exercise caution when using a humidifier around children.

Storage Instructions
Keep in a cool, dry place. Avoid exposure to direct sunlight, damp areas or excessive heat.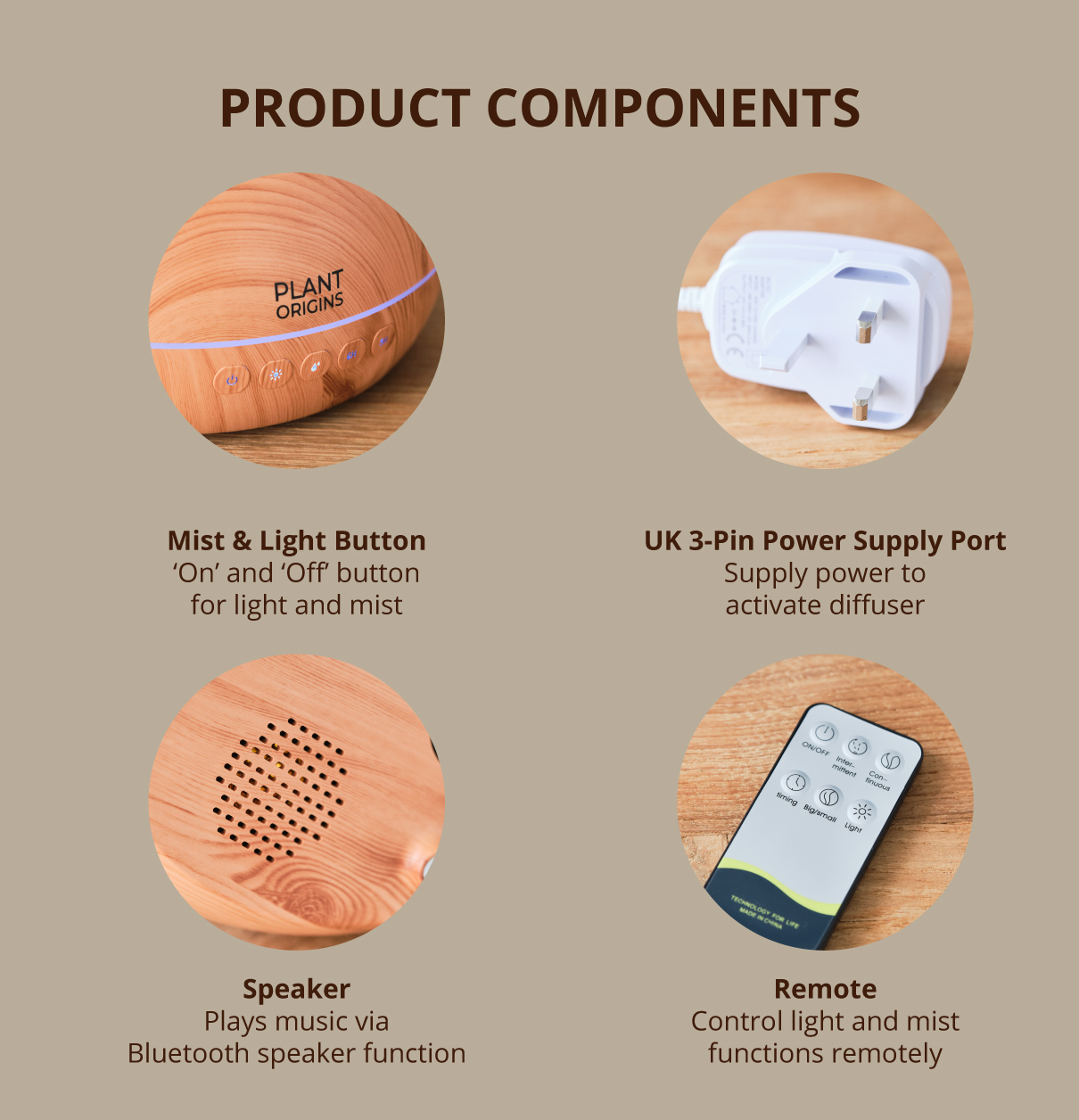 Related Products
Ratings & Reviews
Share your feedback by reviewing this product. Help other shopper decide whether it's right for them.
Plant Origins Aromatherapy Anion Diffuser with Bluetooth
(1000ml)