Free Chunky Peanut Butter with any purchase*

About This Product

Madly in love with both chocolate and coffee? Enjoy the best of both worlds with our Dark Chocolate Coated Espresso Beans. Available in 6 convenient mini packs, this little pick-me-upper is bittersweet on your tastebuds, coming from the harmonious combination of coffee (bitter) and creamy dark chocolate (mildly sweet). Made of 65% dark chocolate and top-notch Brazilian Santos coffee beans, this bite-sized snack will be the tastiest one yet. It also contains caffeine for an instant energy boost just when you need one!

Country of Origin: Malaysia

Ingredients
Sugar, Cocoa Mass, Cocoa Butter, Coffee Bean, Cocoa Powder, Emulsifier: Soya Lecithin (E322), Vanillin.

Allergy Information
Contains soy products. May contain traces of nuts and gluten.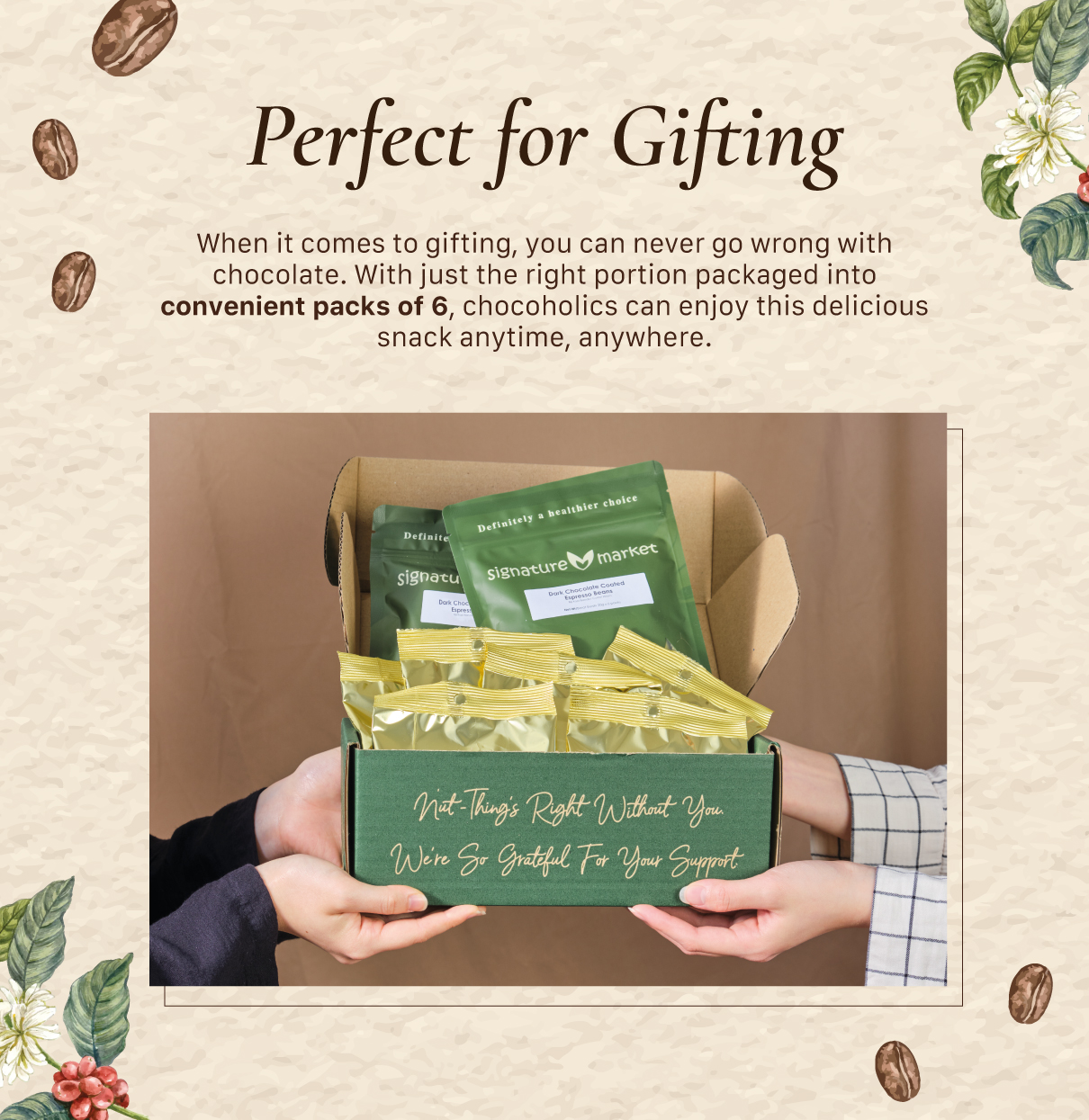 Buy 3 Get Free Gift
Related Products
Ratings & Reviews
Share your feedback by reviewing this product. Help other shopper decide whether it's right for them.
Mut**** I from Mont Kiara, Kuala Lumpur | Posted 1 week ago
Great aroma of coffee
Elegant chocolate sweets with coffee beans filled with coffee aroma
Zul***** M A from Kuantan, Pahang | Posted 2 weeks ago
Great caffein companion
Nice small packaging to keep the espresso beans fresh
TEH L Y from YONG PENG, Johor | Posted 4 weeks ago
味道特别
外巧克力不会很甜,里面是咖啡豆所以中和了甜与苦。
Ong Z Y from Jinjang Utara, KL, Kuala Lumpur | Posted 2 months ago
Good Taste
The taste is good for me.
Jud* from Butterworth, Penang | Posted 2 months ago
Surprising me
A must try for coco & coffee lovers
nor***** b z a from Ipoh, Perak | Posted 2 months ago
sedap
kesedapan berganda bila gabunagn dark choc dan biji kopi...
She*** L from Kota Kinabalu, Sabah | Posted 3 months ago
Ang***** C from Kuching, Sarawak | Posted 3 months ago
addictive
can't stop munching on these. not too sweet
Dark Chocolate Coated Espresso Beans
(20g x 6 packs)